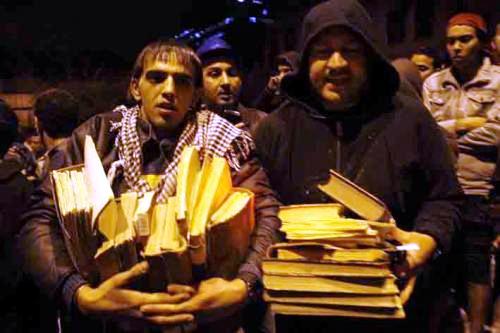 In the wake of the fire that destroyed much of the manuscript collection at the Institut d'Egypte on Saturday, scores of pro-democracy protesters have told of their efforts to salvage books and other rare documents from the smoking ruins.
The institute, which was built by Napoleon Bonaparte on Qasr al-Ainy Street, was set ablaze during fighting between security forces and pro-democracy protesters on Saturday morning. Many rare documents dating back to Napoleon's campaign in 1789, including an original copy of the Description de l'Egypt, were damaged by fire or else by water used to put out the flames.
Protesters began salvage operations later on Saturday, as fighting continued around them, removing books and manuscripts from the building and arranging them on the pavement outside. They made contact with officials at the Ministry of Culture, who arranged to collect the works and remove to the safety of the Dar al-Kutub building on the Corniche.
The first to enter the building and save documents did so while the fire was still raging. Several young men were shot at and pelted with rocks as they tried to enter the building.
"They fired at us with shotguns," said Ahmed, one of the young people involved in the rescue operation. "A little kid was hit with 11 pellets in the neck."
Another young man had his back broken by a rock as he attempted to carry books out of the burning building.
Others say that as they worked to arrange the books on the pavement outside, soldiers taunted and threatened them.
Qasr al-Ainy Street is now cordoned off with barbed wire and concrete barricades.
Translated from Al-Masry Al-Youm