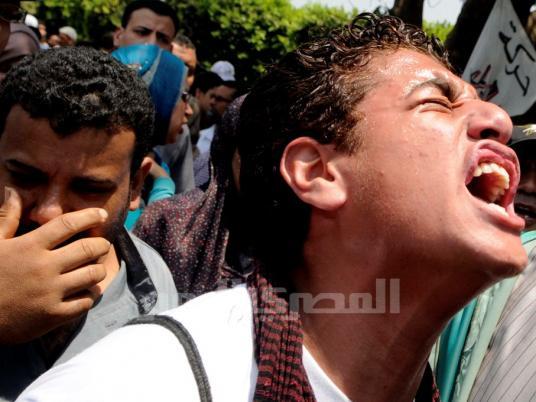 Protesters gathered early on Thursday outside the Supreme Constitution Court ahead of its crucial rulings that dissolved the Islamist-dominated Parliament and ruled the exclusion of former regime figure Ahmed Shafiq from the presidential race unconstitutional.
On the Corniche, the busy Nile-side road that runs past the courthouse, one lane had been completely shut off by neatly placed coils of barbed wire and rows of soldiers. The authorities were anticipating an assault that never came — only around 200 protesters appeared to voice opposition to Shafiq and the ruling Supreme Council of the Armed Forces, and express general despair at Egypt's unraveling revolution.
The rulings dissolve the Islamist-dominated Parliament, relegate legislative power to the SCAF and legitimize the presidential candidacy of Mubarak's last prime minister.
Youths gathered around posters of Shafiq and attempted to set them on fire while a middle-aged protester in a suit silently held up a shoe in front of the cordon. Another man went the extra mile and held up a shoe with a picture of Shafiq pasted on its sole, and smiled for the cameras. There was an eerie picture of Shafiq's image merged with that of Egypt's former president, captioned "Ahmed Mubarak."
Protester Eid Ezzedin said that he was present because he was "fed up with the state of affairs in the country."
"The SCAF are doing deals and setting people against each other," Ezzedin said.
A middle-aged lawyer who only consented to give his first name, Ahmed, described the entire transition process as a "soap opera cooked up by SCAF."
"Egypt is falling apart and we're fooling ourselves," Ahmed said, blaming the inability of political forces to unify against the current situation.
Another protester, Mohamed Rashad, described events as a "riddle" the authorities have created to amuse themselves and vex the Egyptian people. He was supported in this by protester Mohamed Ragheb.
"We're living a Bollywood film," Ragheb said. "They're trying to drive us crazy."