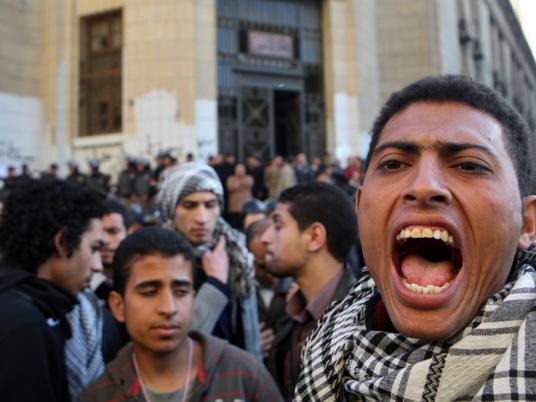 Several political parties and forces protested in front of the High Court Wednesday, in solidarity with judges during their public assembly meeting, shouting slogans against what they called "schemes to demolish judicial institutions," "the aggressions toward the independence of the judiciary" and what they alleged were the Muslim Brotherhood's attempts to control state institutions.
Demonstrators held aloft banners supporting the judiciary and attacking the Brotherhood and President Mohamed Morsy, including with the phrase "down with the rule of the supreme guide."
Leading Tagammu Party member Nabil Atris described the judiciary as "the last bastions of the civil state, and the protectors of human rights." He accused the Brotherhood of attempting to defeat the judiciary by trying to reduce the retirement age, which he alleged would free up 3,000 positions within the judiciary that the Brotherhood could fill with judges who had ties to the group before the next election.
"The Muslim Brotherhood is currently exercising uncharacteristically political stupidity when they insist on demolishing the judiciary," said Hamada al-Kashef, official spokesperson of the Revolution Youth Coalition. "There is no difference between Morsy and (former President Hosni) Mubarak in dealing with the judiciary."
"When we stand in solidarity with the judiciary, we protect the Egyptian citizen," Kashef added. "The Muslim Brotherhood should be aware that they were suffering from the oppression of the ruling power and the judiciary was the one who protected them and defended them, before [they] turn from being a victim to becoming the executioner.