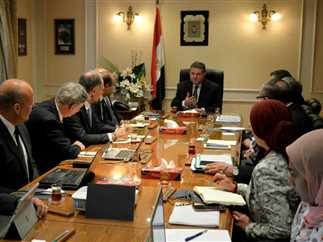 Public Enterprise Sector Minister Hisham Tawfeeq has discussed executive procedures needed for the reform and development of subsidiaries belonging to the Holding Company for Cotton, Spinning, Weaving and Clothing. The minister met with a delegation from the global consulting firm Warner, headed by the CEO, who prepared a comprehensive structuring study of the subsidiaries.
President of the Holding Company Ahmed Mostafa also attended the meeting.
Tawfeeq listened to a summary of studies and reports previously prepared by Warner in 2017, on which the current investment plan of the Holding Company for Spinning and Weaving was prepared.
The minister expressed his appreciation for the efforts exerted by Warner to prepare the studies, stressing the importance of preparing financial, marketing and technical feasibility studies for all projects to be carried out for any public subsidiary companies.
Tawfeeq also discussed the consultant's proposals on the managing system, and follow-up mechanism of the restructuring plan, which will take several years.
Tawfeeq also heard the American company's past experiences, with similar reform programs in other countries.
At the conclusion of the meeting, he stressed the need to pay attention to the marketing and the training of employees, to achieve the goals of the integrated development program, in addition to technical restructuring and modernization of production lines.
Edited translation from Al-Masry Al-Youm.