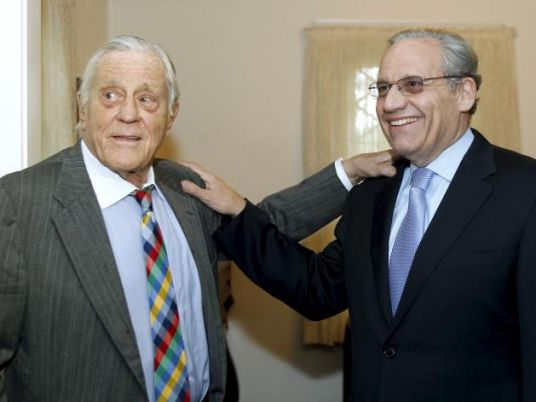 Former Washington Post editor Ben Bradlee quarreled with a TV talk show host, wanted to cool growth in local liquor stores and had doubts about whether his name should be used in acclaimed Watergate movie "All the President's Men."
This is according to a collection of nearly 70 boxes of personal papers from Bradlee acquired by the Harry Ransom Center, a University of Texas library specializing in original source material.
Then there are the quips from Bradlee, the hard-driving, salty-tongued executive editor who reigned with style as the newspaper helped topple President Richard Nixon.
Bradlee died in 2014 at the age of 93.
"What do we do about leaks? How do we recognize them? It depends on who gets wet," Bradlee wrote in a note.
He joked with an academic, "I always thought a guy who had Ph.D. after his name was on the lam from something."
The Ransom Center will soon start cataloguing documents from six decades of his professional life so material relating to his work at the Post and correspondence with journalists, politicians and cultural figures can be used by researchers.
Bradley's work guiding young reporters Bob Woodward and Carl Bernstein as they traced a 1972 burglary at Democratic Party headquarters at the Watergate office and apartment complex back to the Nixon White House has been celebrated from journalism schools to Hollywood.
In a note to the paper's publisher Katharine Graham, Bradlee worried about how they might be portrayed in the 1976 movie about the paper's coverage of the Watergate scandal.
"I do have problems about the use of our names," Bradlee wrote to Graham, "certainly before knowing who is going to play any of us, and what he or she is going to be made to say."
Actor Jason Robards played Bradlee, and won the Academy Award for best supporting actor.
In a 1978 letter, Bradlee called out TV personality Phil Donahue for mistakes he made in his coverage of an affair involving former President John F. Kennedy. The item made page one in the Post.
Bradlee has a file in the papers called "Kennedy Pre-Nomination" with notes on the then U.S. senator pushing for a $1.25 an hour minimum wage but willing to compromise on $1.15.
In 1992, Bradlee wrote a D.C. City councilman supporting a new moratorium on Georgetown liquor licenses explaining succinctly: "we are drowning."