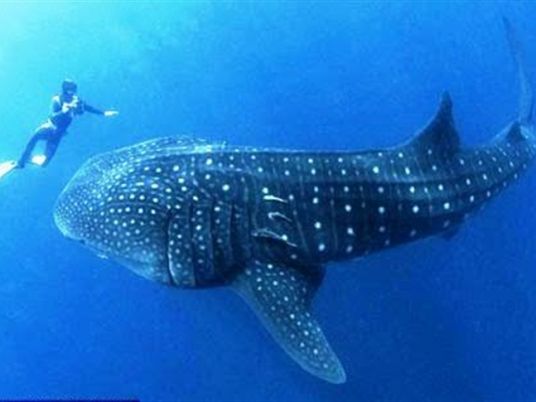 Environment Minister Khaled Fahmy has instructed marine life experts in the Red Sea protectorates to monitor and protect the swim path of a whale shark which appeared north of Hurghada on Monday.
The large shark, listed as an endangered species, was sighted from a boat off the coast of the Red Sea resort town, swimming close to the surface.
Ahmed Ghallab, head of the Red Sea protectorates, said that maritime patrols were instructed to keep tabs on the whale shark's course northwards through the Red Sea towards the Suez Gulf, and to protect it from contact with humans. Warnings were issued to fishermen not to harm the shark.
The whale shark owes its name to its gargantuan size, with the largest adults reaching up to 13 meters in length. The species is distinguished by the white, polka dot-like pattern on its skin, interspersed with pale stripes. They feed mainly on plant plankton and pose no danger to humans.
Hunting the shark is banned in Egypt as the species is endangered, and concerted efforts have been made to preserve the Red Sea ecosystem, which is the habitat of several rare and endangered species.
Sightings of the whale shark are rare in the Red Sea, but Monday's sighting marks the fourth time the giant fish has been spotted in Egyptian waters this year, which marine experts consider a mark of success following recent environmental protection projects. The Red Sea protectorates have committed to uphold international agreements on protecting marine life.
Edited translation from Al-Masry Al-Youm