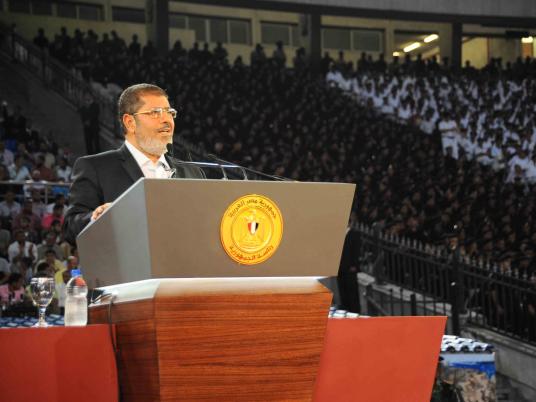 The constitutional referendum will be held on its previously set date of 15 December and the constitutional declaration issued by President Mohamed Morsy on 22 November has been largely canceled, former presidential candidate and Islamist thinker Mohamed Selim al-Awa announced in a press conference following the conclusion of a "national dialogue" meeting on Saturday night.
Awa, appearing with the eight other members of the committee who drafted the new constitutional declaration after the nearly nine-hour meeting's conclusion, said that the new constitutional declaration, which is immune from judicial appeal, still gives the president the power to "protect the revolution," but reinstates judicial oversight of his decisions.
The declaration also keeps in place the appointment of Talaat Ibrahim Abdallah as the new prosecutor general and the retrying of former regime figures responsible for protesters' deaths during the revolution that overthrew former President Hosni Mubarak.
In the original declaration, Morsy also stated that Mubarak regime figures would be retried for the deaths of protesters nearly two years ago in the 25 January uprising.
The declaration also stipulates that a new Constituent Assembly will be elected in three months if the current constitution draft is voted down in the upcoming referendum. The new assembly would have six months to draft a new one.
Morsy called the meeting on Saturday after a week of protests against the referendum and constitutional declaration and violent clashes between his supporters and opponents that killed at least seven.
The president announced earlier today that he would not be taking part in the meeting in order to ensure the neutrality of its conclusion.
Speaking on the 90 Minutes program on the Satellite Mahwar channel on Saturday evening shortly before the press conference Prime Minister Hesham Qandil had said Morsy had "no objection" to delaying the referendum.