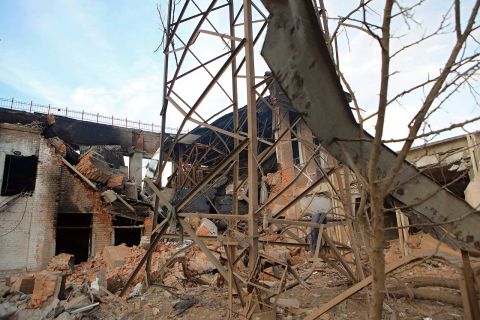 Two of the main electricity lines supplying part of Kharkiv region have been restored, Ukraine's energy supplier said Wednesday, following a Russian strike on a local facility that left many without power.
"Repair crews of NPC Ukrenergo have already restored the operation of two main lines supplying Kharkiv and the Kharkiv region. Work on other lines continues and will continue until complete," the post from Ukrainian state energy company Ukrenergo read.
According to Ukrenergo, which operates the nation's high-voltage transmission lines, energy supply was restored across the Kharkiv region late on Tuesday. CNN cannot independently verify the claim.
The entire region of Kharkiv was without electricity after the backup power line supplying settlements "failed," the Deputy Head of the Office of the President of Ukraine Kyrylo Tymoshenko said on Tuesday, citing "insidious shelling by Russian (forces)" as the cause.
Last week, Ukrainian forces ruptured Russian defenses and recaptured swathes of territory in the east, marking a colossal blow for Moscow.
Ukrainian President Volodymyr Zelensky said Russia responded on Sunday with missile strikes that hit large parts of eastern Ukraine including the Kharkiv power and heating plant, killing one employee and damaging critical infrastructure.