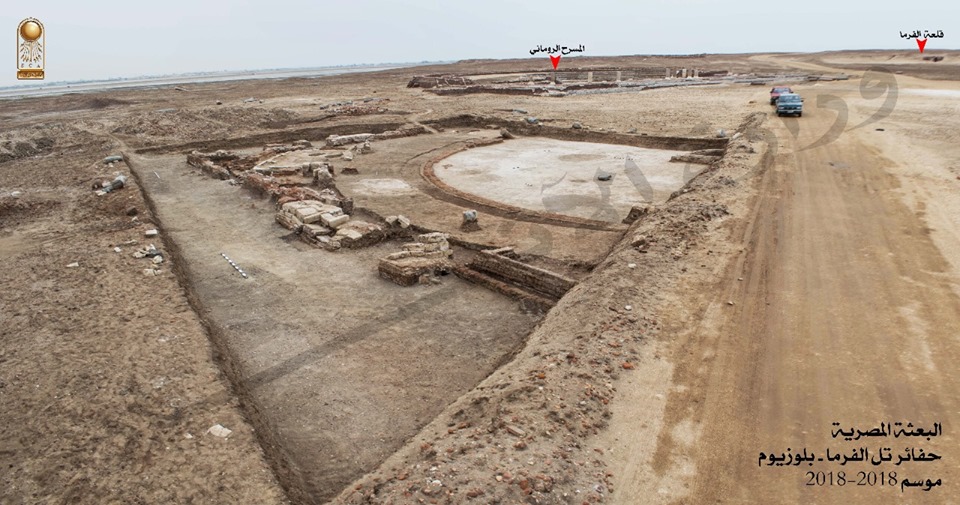 The Egyptian archeological mission working in Tel al-Farma (ancient Pelusium) in North Sinai have uncovered part of a huge building dating to the Graeco-Roman Period, used as a seat for the ancient Senate.
The Secretary-General of the Supreme Council of Antiquities Mostafa al-Waziri said that preliminary studies conducted on the ruins show that the architectural planning and the place of construction indicate that it was likely used to hold meetings for the city elders and citizen representatives, to take decisions on the general affairs of the city and its citizens, during Pelusium's period of prosperity beneath the rule of the Ptolemaic and Romans.
The head of the Egyptian Antiquities Sector Ayman Ashmawy said that the building is made of red and limestone bricks. It is about 2,500 square meters in size, rectangular on the outside and with circular entrances from the inside. It also features a main gate in the eastern side that flows to the main street of the old city of Pelusium.
Regarding for the interior design of the building, the head of the Central Department of the Antiquities of Lower Egypt Nadia Khader said that it consists of the remains of three circular bases used to sit, the thickness of each at 60 cm. She specified that it was built of red bricks and covered with marble.
She added that the mission also uncovered parts of the city's old streets.
Edited translation from Al-Masry Al-Youm