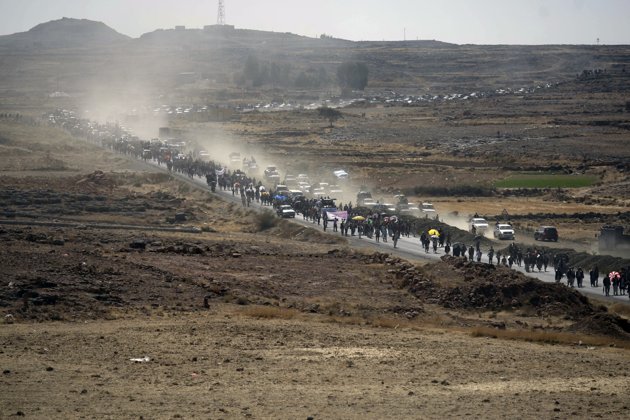 DUBAI — Washington
believes Iran is working with Shia Muslim rebels in northern Yemen and secessionists in the country's south to expand its influence at the expense of Yemen's Gulf neighbors, the US envoy to Sanaa was quoted as saying on Sunday.
The pan-Arab daily Al-Hayat cited Gerald Feierstein, in an interview in London, as accusing Lebanon's Hizbullah and Hamas of helping their backers in Shia Iran at the expense of the Gulf Cooperation Council (GCC), a bloc in which Sunni-led oil giant Saudi Arabia's influence is dominant.
"The Iranians want to build influence in Yemen … both internally and more broadly in the region by establishing a foothold in the Arabian Peninsula," the paper quoted Feierstein as saying in remarks published in Arabic.
"It's something that's naturally regarded as a security threat to Saudi Arabia and the rest of the GCC states."
Feierstein told Reuters in an interview last month that there were signs of greater Iranian activity in Yemen, but did not specify where and how.
"There is evidence that Hizbullah and Hamas support this Iranian effort. We are aware of a southern Yemeni presence in Beirut that has been used as a conduit for Iranian support for obstruction in southern Yemen," he said.
A spokesman for the US Embassy in Yemen did not immediately respond to a call seeking comment on the published remarks.
Feierstein was referring to the resurgence of secessionist sentiment in the south, formerly a separate socialist republic which fought a civil war with the north in 1994 after four turbulent years of formal political union.
That sentiment, based in charges of economic and political marginalization, gained strength in the final years of former President Ali Abdullah Saleh's rule, and the south saw a boycott of a vote last month to replace Saleh with his deputy.
That election was a key to a transition deal, crafted by the GCC with US and UN endorsement to avert civil war after mass protests against Saleh turned into fighting among a divided military and territorial gains by the country's Al-Qaeda wing.
Feierstein said the group had benefited from Yemen's political turmoil, but could be defeated by a reunited Yemeni military. The US has backed units of the military led by Saleh's relatives as part of its campaign against Al-Qaeda, which has plotted abortive attacks abroad from Yemen.
"If we solve some of the political problems that created chaos in the Yemeni military, we will have improved the possibility of succeeding in our initiatives against Al-Qaeda," he said.
Washington has carried out a campaign of drone strikes — including one last year to assassinate a US citizen it claims played a role in plotting an attack — against alleged Al-Qaeda members in Yemen.
Its top "counter-terrorism" official has made co-ordination with a united Yemeni military a priority in relations with the administration of President Abd Rabo Mansour Hadi. An attack claimed by Al-Qaeda killed at least 26 people hours after Hadi was sworn in, vowing to fight the group.
Feierstein refused to comment when queried about the present US role in airstrikes earlier this month that killed dozens in areas of south Yemen controlled by an Al-Qaeda-linked Islamist group.
"I can say that we are working closely with the security institutions of the Yemeni government regarding counter-terrorism initiatives, specifically those aimed at defeating Al-Qaeda," he was quoted as saying.