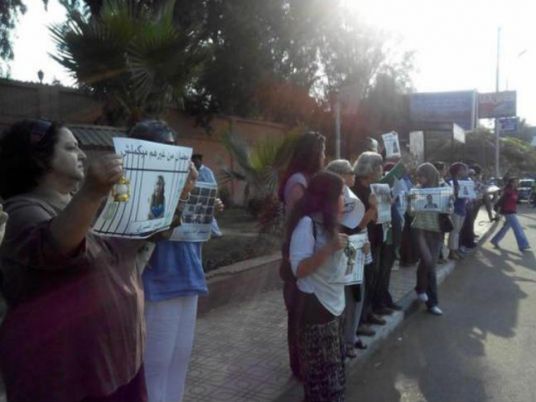 At least 94 Egyptian women are currently in prisons or have been arbitrarily detained in Egypt, according to a report recently released by the Egyptian Coordination of Rights and Freedoms.
The
report
revealed that many security violations against women took place in the period between January and July 24, 2015. It considers the violations completely contradictory to the constitution and the law that guarantees Egyptian women dignity.
Cairo houses 51 female detainees, which is deemed the highest number in the country. Damietta has 10 female detainees, AlGharbia holds nine female detainees, AlSharqia currently has one female in custody and the remaining women are being held in other governorates across the country.
The violations against women were varied as some were taken from their homes, others were journalists, still others were minors, a few were forcibly disappeared and still others were remanded to military trials or were the fatal victims of illegal shootings.
One of the most prominent cases of violations against women is Esraa Mohammed Khaled, who was arrested from her home on January 20, 2015. No cause was given to her at the time of the arrest and when she was later accused of several charges, there was no physical evidence to suggest she had committed those acts. The report suggests the charges were fabricated as they included hitting electricity transformers and burning a storehouse, as well as the judges' club, in Beni Suef.
Other cases of violations include those of Farida Ali Ahmed and Samar Hassan who are two journalists that have been arrested and accused of belonging to a terrorist group, as well as disturbing national security by publishing false news.
Moreover, there is the well-known case of Esraa El-Tawil, the photojournalist who disappeared. She was later spotted in Al-Qannater prison where she was charged with spreading false news and deprived of medication.
Samia Shanan, 54, a vegetable seller in Kerdasa was charged with attacking the Kerdasa police station and killing police officers. Security forces stormed Shanan's home to arrest her son who was accused of all these charges, but as he was not present at the time, they detained his mother instead, in order to pressure him into giving himself up.
When the son did turn himself into the police, rather than be released, Shanan was still charged with the same crimes her son had committed.
The report also pointed out that there were two females who were referred to military trials in January, despite the fact that there were no known charges connected to attacks on the government that would justify a military tribunal.
Additionally, three females, including 70-year-old Gamalat Madawi, were illegally shot and killed by security forces during the disperal of a protest in January 2015.
Sondos Abu Bakr,7, was killed on January 23, 2015 during the security dispersal of a protest in Alexandria, while Shaimaa El-Sabagh was shot dead while taking part in a peaceful march on the anniversary of the January 25 revolution.
The report ends by arguing that security forces need to release all the detained females, unveil whomever was forced to disappear and stop military trials.