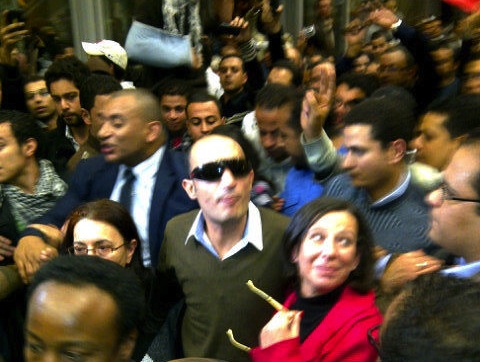 With songs, flowers and anti-military chants, 200 admirers awaited Ahmed Harara at Cairo airport as he returned from a failed attempt in France to save one of the two eyes that he lost during Egypt's revolution.
The 31-year-old dentist lost sight in his right eye after four pellets lodged in it during the first round of clashes between security forces and protesters on 28 January. During last month's clashes in Mohamed Mahmoud Street, Harara was on the frontlines again and his left eye was also shot.
"I am here because I'm proud to be Egyptian like him. This is the least that we can do, the smile on his face is enough," said law student Heidi Essam as she stood with the crowd, which included many people who did not know Harara personally, and many who have not been involved in politics.
Essam credited Harara with inspiring many who were not taking part in protests to take to the streets after they heard his story. "There are people who were against the revolution who began to go down with us when they heard about his eyes, from a humanitarian perspective," said Essam.
Harara's friends wore T-shirts bearing a poem that one of them wrote for him, capturing his selfless attitude. The last verse said, "If I lose the light of my eyes, millions will see for me."
Inspired by Harara's sacrifice, those who came to welcome him in the airport repeated anti-military chants, and vowed to continue the fight that he lost his eyesight for.
"Harara's eyes are precious, we will never forget our cause," they chanted, holding the Egyptian flag.
In a surreal scene, the revolutionary chants of Tahrir Square calling for the end of military rule and the execution of Field Marshal Hussein Tantawi echoed loudly inside the airport terminal as bewildered passengers emerged from their flights.
As he came out wearing dark glasses and his signature smile, the crowd flocked to surround Harara, singing a song that was tailor-made for him and yelling out words of admiration.
"I was very happy to see that there are people who are aware and appreciate what he did, unlike those who accuse him of being an agent," says Hatem, Harara's older brother, taking consolation in his brother's honoring after the bad news received during his trip.
Doctors in France confirmed the assessment that Harara received in Egypt, that the optic nerve in his most recently injured eye was severed and the damage is therefore irreversible. They also failed to cure a blood clot, which has been causing him health trouble, because of a severe infection in his eyes.
Hatem said that doctors will attempt to deal with the blood clot again when the infection has cleared up, and that they are considering transplants as the next step to attempt to restore his sight.
He added that despite the news, Harara's positive attitude is still intact.
"He has a lot of hope and he loves the country so much," said Hatem. "He's still laughing and this is what's helping us survive."
Harara's cousin, Mohamed Samy, said that he has always had the fun-loving and positive attitude that impressed those who saw him crack jokes and smile after we was wounded.
"He hasn't changed, now he loves people even more. He doesn't care about his injury," said Samy.
Time Magazine recently profiled Harara in its issue nominated "The Protester" as person of the year.