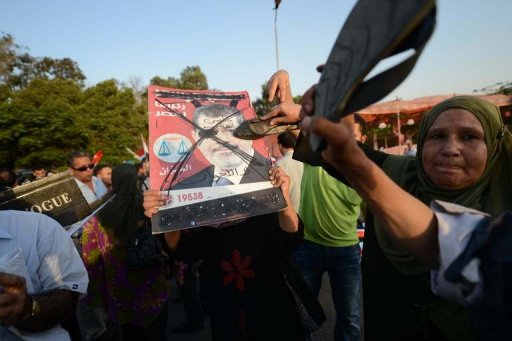 The Union of Revolution Youth on Wednesday called on citizens and political powers to stage mass rallies across Egypt on Friday, 12 October to mark 100 days since President Mohamed Morsy took office.
They added that the protest, which they have titled "Accountability," would also emphasize that the 25 January revolution is continuing.
The group issued a statement saying the protest would demand a new Constituent Assembly, the release of all protesters detained during the revolution, trials for all those behind the killings of protesters and social justice.
Other demands in the statement include setting the minimum wage at LE1,200, rejecting the abolition of subsidies on basic commodities, rejecting foreign borrowing, eliminating corruption in state institutions and dismissing the public prosecutor.
Morsy had pledged to improve security, solve traffic problems, ensure steady fuel supplies, improve the quality of subsidized bread and solve the problem of garbage collection within the first 100 days of his rule. While observers say hardly any of those five issues has been adequately addressed, Freedom and Justice Party leaders complain about red tape, which they say is a legacy of the regime of ousted President Hosni Mubarak.
According to "Morsy meter," a page launched by activists on Facebook to gauge Morsy's performance over the first 100 days of his term, Morsy managed to fulfill only four of a total of 64 pledges. Even though Morsy's plan included solving the recurrent fuel crisis, fuel shortages continue to be reported in various places across the country.
Abdel Halim Qandil, a journalist, on Tuesday described Morsy's platform as "a lie." Earlier this month, Al-Misryeen newspaper quoted sources from the FJP as saying that Morsy will reveal the difficulties that hampered the implementation of his 100-day plan during his speech on the anniversary of the 6 October war.
Edited translation from MENA