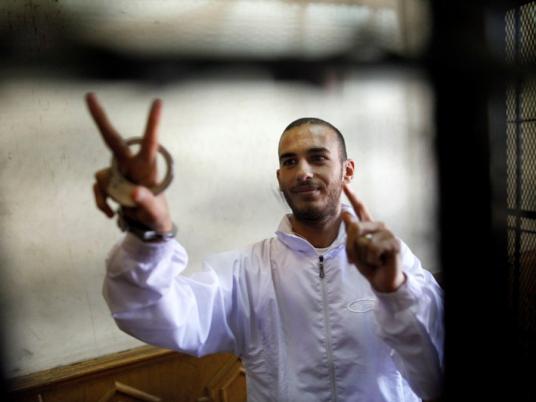 Prominent human rights organizations described the ruling passed on Wednesday against activist and blogger Alber Saber as a message to all opponents of what they termed "the new religious dictatorship" that differences will not be tolerated.
Marg Misdemeanor Court found Saber guilty of "contempt of religion" after he allegedly posted online parts of the amateur film "Innocence of Muslims" that had sparked protests around the Muslim world. He was sentenced to three years in prison on charges of contempt of religion.
Prosecutors also accused Saber of running a Facebook page that "promoted extremist ideas" and atheism, as well as insulting the divine, prophets and Islamic and Christian religious rites and describing God as weak.
The nine organizations, which include the Hisham Mubarak Law Center, the Cairo Center for Human Rights Studies and El Nadim Center for Rehabilitation of Victims of Violence, issued a joint statement Thursday that held all state bodies responsible for any harm caused to Saber and his family due to incitement against them. They expressed their "deep shock" at the ruling.
In the statement, the organizations called for the rescinding of all criminalization of criticism of religion, be they in legislation or the draft constitution, saying that "freedom of expression is a basic human right stated in all constitutions, charters and international conventions." A person should not be imprisoned merely for stating an opinion that runs contrary to society's mainstream beliefs, the statement said.
The nine signatories said the ruling against Saber "is a message to all opponents of the new religious dictatorship taking shape in Egypt" that opposing views will become punishable crimes.
The ruling will spark a series of violations of freedom of expression, the statement said, adding that it was representative of the state's hostility towards minorities.
They also said that the issuing of such a harsh ruling against a Coptic citizen for the sole reason that he expressed a view on his personal Facebook account "considerably undermines justice and constitutes a serious abuse of authority against religious minorities."
The new constitution restricts freedom of belief to divine religions and considers objections to religious views acts of apostasy and sedition, the statement said.
The statement refers to investigations showing that since his arrest, Saber was beaten on the incitement of a policeman. His mother allegedly received death threats and was warned that her house would be burned down if she did not move out.
Although Saber's lawyers paid the bail for his release pending the issuing of a ruling on the appeal, the defendant was still sent to prison.
Edited translation from Al-Masry Al-Youm