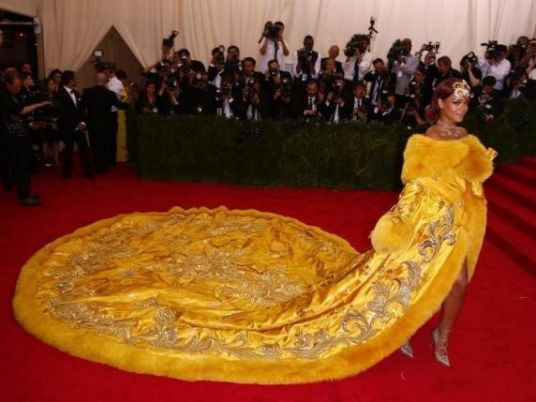 Among the opulent outfits on display at last week's Met Gala, one dramatic design stole the show.
Singer Rihanna's canary yellow cape dress, trimmed with fur the color of egg yolk and embroidered with flowers, swept behind her in a seemingly endless train as she arrived for the ball at New York's Metropolitan Museum of Art, one of the biggest nights in the fashion year.
Social media lit up with chat about the dress, and the fashion magazine Vogue promptly put it on the front cover of its Met Gala Special Edition, catapulting its Chinese creator Guo Pei into the international spotlight.
Guo, a brand designer turned haute couture stylist already well known in China, says the empress-style gown, one of her most ambitious creations, took some two years to make from its conception in 2008.
"Just designing, choosing the cloth, confirming the color and getting the material woven in Italy took almost half a year, more or less," Guo said at her studio in north Beijing.
The designer, who admitted she did not know much about Rihanna when she received the call from the Grammy Award winner, said the 25-kg (55-pound) outfit was designed to be difficult to wear to reflect the responsibilities and challenges of an empress.
"I was really not convinced that she would be able to wear it because … it's very heavy," Guo said. "But she later told me 'This piece of clothing is so beautiful' (and) that … she gained the courage (to wear it). I really admired that."
The gown is now back with the designer, who hopes to display it in a museum one day.
Guo says she is now getting used to being in the spotlight. "I have no requirement to gain a certain level of fame," she said. "I just want to do really beautiful designs that everyone likes."