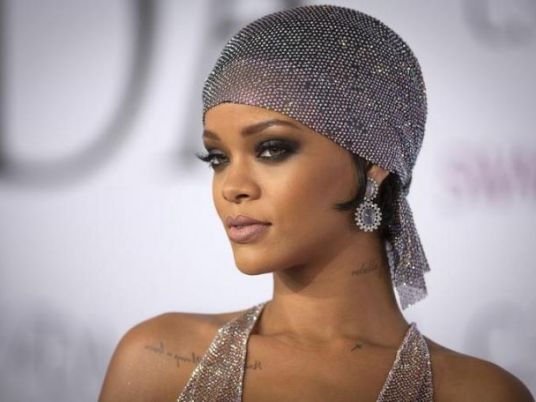 Top names in music, including Metallica and Rihanna, performed in a concert on Saturday that brought promises of action to support refugees and improve sanitation in the developing world.
The Global Citizen Festival, broadcast live from the vast lawn of New York's Central Park, distributes tickets to fans who commit to petitions and other actions aimed at ending extreme poverty.
Interspersing performances from some of the world's most sought-after artists with rapid speeches and videos, the fifth edition of the festival put a special focus on solidarity with refugees amid the mass exodus from war-ravaged Syria.
Electronic duo Major Lazer kicked off the more than six-hour festival that also brought out leading pop singers Demi Lovato, Ellie Goulding and Rihanna — who noted to the crowd that she herself migrated from Barbados.
Metallica played one of the band's few shows ahead of the metal icons' upcoming album, ripping through five of their most classic tunes at a decibel level rarely heard in the halls of international diplomacy.
Yusuf, the folk rocker known as Cat Stevens before his conversion to Islam, appealed to the crowd to ensure that no one is "stigmatised" on account of identity.
"This globe is big enough for everybody to share," he said.
Pearl Jam frontman Eddie Vedder teamed up separately with Yusuf and with Coldplay frontman Chris Martin, with whom he sang a two-guitar version of Patti Smith's "People Have the Power."
Vedder, long outspoken in his left-leaning politics, made veiled criticism of US presidential contender Donald Trump, saying that election-season "bigotry" would not endure in "this modern world of communication and acceptance."
"This is one last gasp — they know that these are antiquated ideals that are going away."
Rapper Kendrick Lamar put on the festival's most extensive set, culminating in an energetic "Alright," his unofficial anthem of the Black Lives Matter movement.
Humanising refugees
In one of the evening's more unlikely stars, a six-year-old New York boy named Alex took the stage, waving with precocious grace.
Alex recently wrote a letter to President Barack Obama asking him to bring "the boy who was picked up by the ambulance in Syria" to his home, promising to care for him.
He was referring to five-year-old Omran Daqneesh, who was filmed dazed, bloodied and covered in dust after being rescued from the rubble of his family's home last month.
Obama shared Alex's letter Monday at a UN summit on refugees as he appealed for more compassion for refugees amid the rise of Trump and other politicians who have advocated closing doors.
Refugees from Syria and South Sudan also spoke out at the festival, as well as the widower of Jo Cox, the British lawmaker and human rights activist who was assassinated days before her country's shock vote to leave the European Union.
"In honor of my wife, I and my family will always stand with refugees," a poised Brendan Cox said.
Showing a human side to refugees, the festival aired a video of Alex Assali, a Syrian who found safety in Germany and feeds homeless people as a show of gratitude.
Festival presenters repeatedly praised German Chancellor Angela Merkel, who has faced a backlash for taking in more than one million asylum seekers last year alone.
In a subtle shift in tone for the feel-good festival, speakers also offered criticism, with one video narrator pointing a finger at Switzerland for cutting its aid budget.
Toilets for all
The Global Citizen Festival says that it has generated more than 7.7 million actions for its causes.
While much of the effort has been about awareness, the latest festival offered several concrete promises.
Luxembourg Prime Minister Xavier Bettel pledged two million euros ($2.2 million) by 2019 to fight polio, which has re-emerged in Nigeria after two years.
Dutch Foreign Minister Bert Koenders said The Netherlands would give another $300 million to achieve goals on clean water and toilet access by 2030.
Around a third of the world lacks functioning toilets, a major public health problem with wide-ranging effects.
Jeff Radebe, minister in the presidency of South Africa, told the festival that his country was committed to ending open defecation by 2030.
Nigeria pledged to do so even sooner, with Environment Minister Amina Mohammed giving a target of 2025.
"This will improve health, create jobs. It will ensure we have dignity for all of our citizens, especially our girls," she said.
On World Toilet Day on November 19, the Global Citizen Festival will hold its first edition in India with headliners including Coldplay and Jay Z.