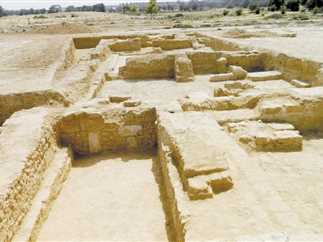 The Egyptian archaeological expedition at the Meit Aboul Koam site in Monufiya have uncovered a number of rooms dating back to the Roman and Byzantine eras, the Secretary General of the Supreme Council of Antiquities Mostafa al-Waziry announced in Thursday press statement.
One of the discovered chambers features the Roman architectural style, as the walls consist of large stone blocks with precise angles indicating this dates back to the Roman era, Waziry said.
Marble columns with a smooth Roman-style hull and a large number of coins were also found in the chambers.
Other rooms contained Byzantine walls with uneven stone blocks of unequal sizes.
Spaces that filled the mortar used in Byzantine architectural buildings made it weaker than the Roman mortar, as such the walls of Byzantine chambers were found disjointed.
The mission also discovered a room with a floor containing tiles of various sizes. Inside they found a capital of a column flower decoration, containing six petals used in the style of Greek/Hellenistic buildings and used by Egypt's Copts at that time to symbolize the six-arm cross, which also appeared on the bottom of a dish discovered in the room. The dish is currently under restoration, according to Waziry.
Head of the Central Department of Lower Egypt Antiquities Nadia Khedr said that a number of little archaeological artifacts that represent pure Christian motifs, such as the symbol of the cross and palm branches constructed in a Roman style, have been also discovered.
Dishes, pans, and two large water jars in a good state of conservation have been found, beside a large number of non-decorative broken parts of utensils, Khedr mentioned.
Edited translation from Al-Masry Al-Youm