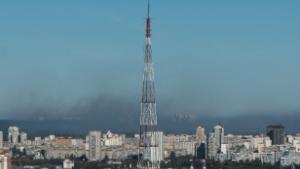 Russian rockets have hit two "energy facilities" in the Lviv region of western Ukraine, according to a military official.
"As of now, it's known about three explosions at two energy facilities in the Lviv region," Maksym Kozytskyi, head of the regional military administration, said on Telegram Tuesday.
Kozytskyi warned that power outages were possible.
Parts of the region were already without power following Russian strikes on energy facilities in Lviv and other major Ukrainian regions on Monday.