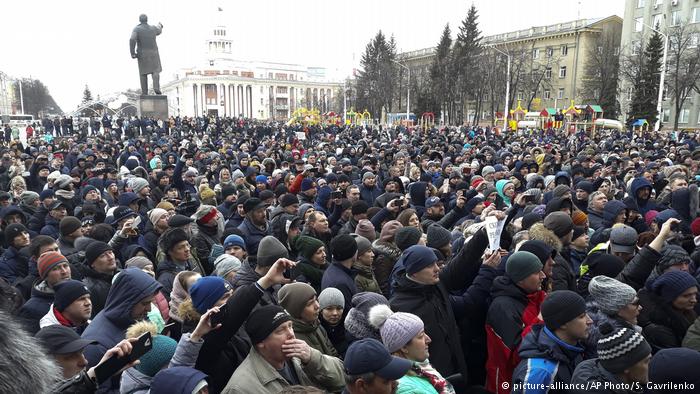 As Russia mourns victims killed in a deadly shopping mall blaze in Siberia's Kemerovo, many citizens have been voicing their mistrust of authorities. Politicians and locals appear to be talking past one another.
These are dark days in Russia. And the sheer scale of the blaze that engulfed a shopping mall in the Siberian city of Kemerovo and killed more than 60 people – many of them children – is a source of grief but also of anger.
Flags were lowered and entertainment events canceled for three days across the country, as Russia held a national day of mourning on Wednesday, and the first victims were buried.
The deadly blaze that raged on Sunday and Monday was neither the first nor the largest tragedy of this kind in Russia. Nevertheless, public outrage in this instance has been unusually vehement, and the way in which authorities and state-run media have been dealing with the catastrophe and victims has only made things worse.
On Sunday night, when fire broke out in the fourth floor of the shopping center and the first deaths were being reported, major state-run television channels devoted very little broadcast time to the events unfolding in Kemerovo. It was not until the following day that broader coverage was given to the tragic events.
Russian President Vladimir Putin's visit to Kemerovo on Tuesday was widely covered by state media. Yet media outlets made no mention of the 5,000 citizens who gathered for a large demonstration in the city's main square. Moreover, state-run media did not bother to interview eyewitnesses nor citizens who lost loved ones in the blaze.
Read also: Is it time for Germany to revisit its Russia relationship?
Emergency exits locked
Investigators have identified a short circuit as a possible cause for the blaze and said the emergency exits were locked shut, making evacuation efforts very difficult.
A court in Kemerovo is expected to rule later on Wednesday on the arrests of one of the mall's tenants, the mall's technical director, two employees of a company maintaining the fire alarm system and a security guard who investigators said turned off the fire alarm.
Speaking in court on Wednesday, the security guard Sergei Antyushin said in remarks carried by the Dozhd television station that the mall's fire alarm had gone off and that he called emergency services when it did.
But Antyushin told the court that the mall's public announcement system had not been operational for two weeks.