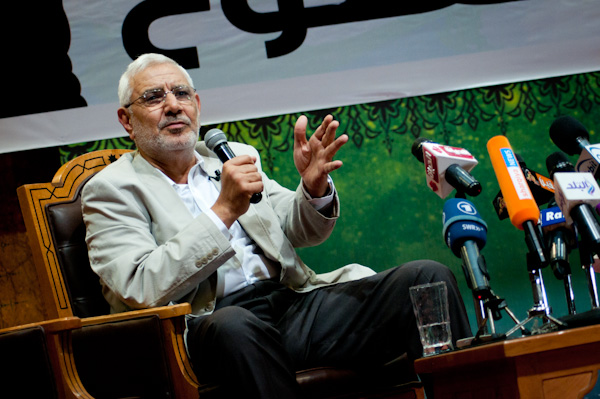 Almost three weeks before the presidential poll kicked off, the Salafi Dawah and its political arm the Nour Party had announced their endorsement of Abdel Moneim Abouel Fotouh. The endorsement of the second largest bloc in Parliament was seen then as a major boost to the 61-year-old independent Islamist, whose chances were already quite high, according to several opinion polls. Yet, the actual vote has proven otherwise.
Abouel Fotouh came in fourth in the first round of the presidential election held last week, garnering a little less than 20 percent of more than 23 million valid votes. Since then, accusations were leveled against Salafis that they had betrayed their candidate and did not campaign well enough for him on the ground in a way that would have at least qualified him for the run-off.
A second round of the presidential race is scheduled for 16 and 17 June between the Muslim Brotherhood's candidate Mohamed Morsy and Hosni Mubarak's last Prime Minister Ahmed Shafiq.
"How could we have betrayed [Abouel Fotouh]?"wondered Nader Bakkar, a leader of the Nour Party in a column published Tuesday. "All first-rank [Salafi Dawah] leaders had backed him in conferences held across the country."
"Would we not fear the shame of backing a candidate ostensibly and then become exposed later on?"he asked rhetorically in the privately-owned Youm7 daily.
In late April, the Alexandria-based Salafi movement took the nation by surprise with their endorsement of a presidential hopeful they had long dismissed for his relatively liberal views. Many experts held then that the Nour Party preferred Abouel Fotouh over Morsy for merely pragmatic reasons, as they feared the hegemony of the Brothers.
In the lead-up to the vote, the Nour Party's leaders vowed to employ their robust electoral machine, which surprised everyone in last year's legislative elections, to bring Abouel Fotouh to the presidency. Although a newcomer to politics, the Nour Party holds almost one quarter of parliamentary seats.
Yet, the Salafi pledged was not fulfilled.
In a phone interview, Bakkar admitted that promoting Abouel Fotouh among the party's rank and file was not an easy endeavor for several reasons. First, the Salafi leadership had little time to market Abouel Fotouh among its followers, said Bakkar.
"Second, Hazem Salah Abu Ismail had raised the ceiling of expectations, so going below that ceiling was not acceptable,"he said, referring to the Salafi lawyer-turned-preacher who was excluded from the presidential race in April due to his mother's dual citizenship.
Before his disqualification, Abu Ismail had attracted thousands of Salafi youths thanks to his revolutionary discourse and his unequivocal commitment to implement a hardline version of Islamic Sharia.
With his relatively liberal views on Islamic law, Abouel Fotouh stood as the antithesis of Abu Ismail in the eyes of many Salafis. Ahead of the poll, Bakkar had sought to convince Salafi rank and file not to be fixated on the ideological differences between them and Abouel Fotouh. He argued that the latter was the only candidate capable of achieving stability.
"But our talk about Abouel Fotouh was not convincing,"Bakkar told Egypt Independent.
Bakkar believes that many Salafis ended up not participating in the poll. As to those who participated, some abided by the leadership's decision and cast their ballot in favor of Abouel Fotouh while others must have voted for the Brothers'Morsy, added Bakkar.
"Morsy's campaign emphasized the Islamic Sharia. This fulfilled the ambitions of many people who saw him as more religious,"Bakkar explained.
In their bid to attract Islamist votes, the Brothers had portrayed Morsy as the sole Islamist presidential nominee who would implement God's law. Additionally, their media had accused the Salafi Dawah and the Nour Party of contradicting themselves by backing a nominee who had long expressed his full espousal of democracy and acknowledged women's and non-Muslims'right to become president, positionsthat Salafis categorically oppose.
"This campaign has affected the Salafi performance and their ability to mobilize their base in a strong way,"Mohamed Osman, a representative of Abouel Fotouh's campaign, told Egypt Independent.
Nevertheless, Osman refuses to hold Salafis responsible for his candidate's defeat.
"Salafis should be thanked for what they offered,"said Osman.
"In several provinces, Salafis did all they could,"he added, listing Alexandria, Marsa Matrouh, Beheira and Damietta.
In Marsa Matrouh and Damietta, Abouel Fotouh outdid all his competitors by coming in first, while in Alexandria and Beheira he ranked second.
Nevertheless, Bakkar is not particularly satisfied with Abouel Fotouh's results in the Mediterranean City of Alexandria, the Salafi Dawah and the Nour Party's stronghold.
"He should have come first in Alexandria,"said Bakkar in a regretful tone.
For almost a year, Abouel Fotouh, a former Muslim Brotherhood leader, had marketed himself as the missing link between Islamists and secularists in the midst of fierce ideological polarization. His campaign had reflected that line of thought by grouping a communist political advisor, a liberal media spokesperson and thousands of Muslim Brotherhood youths. Such a mosaic campaign had attracted many secularists who bet on him to end the Islamist-secular divide.
However, the last-minute Salafi endorsement sent shock waves through many of his secular backers. Some of them diverted to Nasserist candidate Hamdeen Sabbahi, who came in third in last week's vote.
In the meantime, Abouel Fotouh could not please all Salafi groups given his relatively progressive outlook. Cairo-based Salafi groups backed the Brothers'Morsy, seeing in him a truly Islamist leader.
"Our campaign was the only one that was criticized by liberals, Salafis, Brothers and the remnants of the old regime,"said Osman.
"All these groups waged campaigns against us in the media and on the street,"he added.
"Despite all that, we are content with the results. We garnered these votes without any religious-civil polarization. We gathered all Egyptians,"he concluded.
While Abouel Fotouh's campaigners still celebrate this dichotomous constituency as their nominee's blessing, some experts see it as his curse.
Amr al-Shobaki, a political commentator, blamed Abouel Fotouh's failure in the race on this "non-magical mix"that confused voters.
"These elections have shown that the Egyptian citizen supported those who were very clear on their [political] projects, regardless of the nature of those projects,"wrote Shobaki in his Wednesday column in Al-Masry Al-Youm.
"[Abouel Fotouh's mix] failed to gain the trust of many voters,"he added.
"It would have been better if Abouel Fotouh's political mix had only included moderate Islamists, liberals and moderate leftists. But including socialist revolutionaries along with Salafis makes things unclear to many people,"Shobaki concluded.