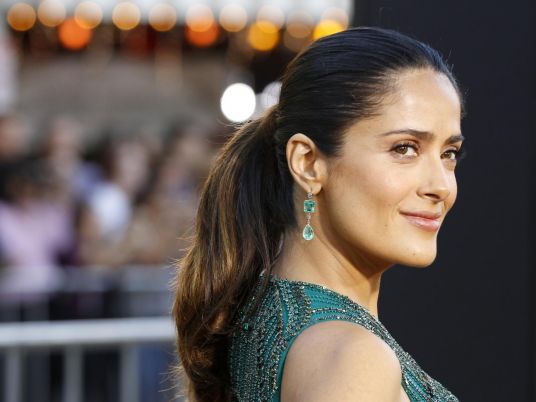 Film actress Salma Hayek says US cinema has overlooked the portrayal of Arab women in films, which she hopes to remedy.
Hayek spoke to Al-Masry Al-Youm upon her acceptance to play the role of an Egyptian woman in a new movie, though she would not give further details.
She said she knows a lot about Arab women issues, which could be the reason behind absence of Arab women in foreign movies, as the filmmakers do not know a lot about her and fear approaching her in order not to cause problems or unintended humiliation. She argued filmmakers prefer to have Arab actors play evil roles than producing a film with an Arab heroine.
As a Mexican, Hayek said she faced hardships to get involved in the issue, however, she stressed necessity of thinking about the role that we want to see for Arab woman in foreign drama. She added that US commercial movies do not pay attention to Arab women as they tend to hide without getting out into the world.
Hayek highlighted the difficulty of adapting the book "The Prophet," written by Kahlil Gibran, into an animated movie, as she called it an exceptional work. Hayek produced the film and screened it at the Ajyal Film Festival. The project, she said, needed funding and the Doha Institution was the first to step up and offer financing. She expressed happiness for the movie as it represents the Middle East. She also wished that talents from around the world could take part to make a movie for all cultures and religions as well as ages.
She added that the cast made the movie about the human being, thus there was insistence to move away from religious and political issues.
Hayek said the film required courage to make such a film that breaks the rules of traditional movies. It had nine directors from around the world from different cultures. Every director had the freedom to select the chapter that he will work on to present it the way he wanted.
Edited translation from Al-Masry Al-Youm