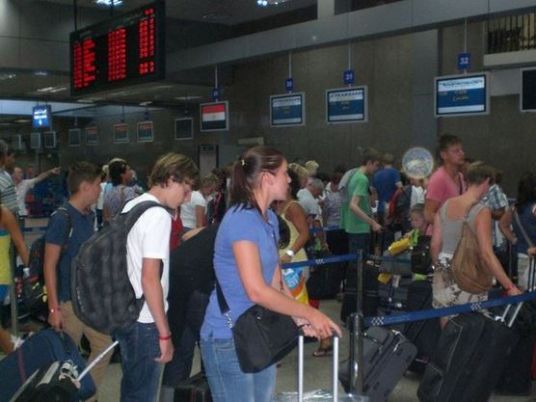 Saudi airlines have canceled direct flights to Sharm al-Sheikh International Airport until 24 December without giving reasons.
European and Russian flights to the Egyptian tourist resort are still operated.
Strict security measures have been imposed at Sharm al-Sheikh International Airport especially on UK airlines, though officials say the United Kingdom has still voiced concerns and has called for tighter measures.
Sources from the airport said the Saudi airlines responded to alerts by the International Civil Aviation Organization (ICAO) despite the Saudi stance supportive to Egypt. Saudi officials initially claimed stopping flights was due to technical issues and few number of passengers, though they later admitted it was due to ICAO warnings. The officials said some reservations from some countries, which would affect the Christmas season.
Adel Shoukry, tourist expert and former secretary of hotels chamber, blamed halting of the Saudi flights on the fe number of Saudi tourists coming to Sharm al-Sheikh. He expected hotel occupancy rate not to exceed 60 percent during the Christmas season, however, the rate might be higher by the new year.
Heba Zahran, tourist expert, claimed the measures were a conspiracy from European countries to strike the Egyptian economy.
Meanwhile, security officials held a meeting earlier with tribesmen of south Sinai to urge them to stick to strict security measures at mountain areas and valleys. They also requested notifying about within their cooperation with security services.
Ahmed Ghobashy, head of the tourism support coalition in Sharm al-Sheikh, said the tourist stores and bazaars are suffering a recession due to instructions by tourist agencies not to wander in markets and touristic areas.
Edited translation from Al-Masry Al-Youm