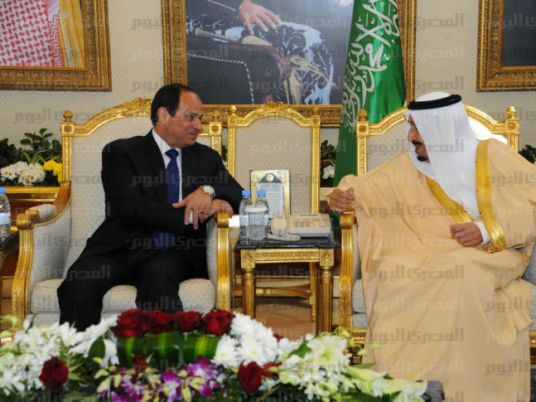 Egyptian President Abdel Fattah al-Sisi arrived in Riyadh on Sunday for a state visit to Saudi Arabia.
Saudi King Salman bin Abdulaziz was one of the first to receive the President upon his arrival at King Salman Air Base Airport accompanied with Governor of Riyadh Prince Faisal bin Bandar bin Abdulaziz, State Minister and member of the Saudi cabinet Dr. Essam Bin Saad bin Saeed, the Saudi Ambassador to Cairo Ahmed Qattan and Ambassador of Egypt in the Kingdom Nasser Hamdi.
The visit comes in response to an invitation from the King within their two countries' interests in resuming joint coordination.
Relations between Egypt and Saudi Arabia have been strained since Egypt voted for two UN Security Council bills on Syria in October. After that, the Kingdom suspended oil supplies from Aramco, a state-owned company headed by Crown Prince Mohammad bin Salman, to Egypt for three months without stating clear reasons.
Saudi Arabia also suspended all memoranda of understanding and agreements signed with Sisi during Salman's visit to Cairo in April 2016. The suspended MoUs were in the fields of commerce, industry and anti-corruption.
However, there have recently been indicators that relations between Egypt and Saudi Arabia are witnessing improvement as Aramco resumed oil product shipments to Egypt some six months after halting them suddenly.
Sisi and King Salman met on the sidelines of the recent 28th Ordinary Session of the Arab Summit in Jordan, during which they discussed various aspects of the strategic relations between the two countries and ways to strengthen them.