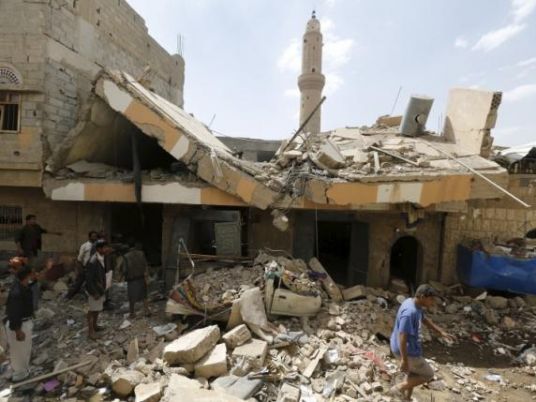 An international rights group accused a Saudi-led coalition of failing to investigate air strikes that have killed hundreds of civilians in Yemen, and said Washington should look into violations of the laws of war in which it played a role.
A coalition of Arab countries, led by Saudi Arabia and allied to the United States, has been attacking Iran-allied Houthis who had seized much of Yemen in a series of military operations since September last year.
The United States is a major supplier of weapons to Saudi Arabia and US officials say intelligence-sharing with Riyadh about potential targets in Yemen has been boosted since March.
Human Rights Watch, in a report received on Friday, said it had interviewed victims, witnesses and medical staff in the provinces of Ibb, Amran, Hajja, Hodaida, Taizz, and the capital, Sanaa, where air strikes had hit homes, markets, a factory, and a civilian prison.
In all of these cases, Human Rights Watch said it either found no evident military target or found that the attack failed to distinguish civilians from military objectives.
The spokesman for the Gulf Arab coalition said the organization's report lacked expertise.
"The person who wrote the report and the witnesses quoted did not demonstrate that the attacks in question were carried out by coalition aircraft," said Brigadier-General Ahmed al-Asiri.
"The coalition welcomes any Yemeni government efforts to use experts to ensure strikes are directed precisely at military targets," he added.
Human Right Watch said it had compiled the names of 309 people – 199 men, 43 women, and 67 children – killed in the attacks, all believed to be civilians.
The New York-based organization said Saudi officials have not responded to repeated requests by the group for information about the 10 air strikes.
The deputy Middle East director at Human Rights Watch, Joe Stork, said the coalition was unwilling to conduct "even a single investigation of numerous potentially unlawful air strikes".
"While the coalition may have sophisticated weaponry and US support, its commitment to the laws of war is rudimentary at best," Stork said in the statement.
The United Nations says about 5,700 people have been killed in the fighting, including more then 2,600 civilians. The United Nations said that about two-thirds of the civilian casualties were killed by air strikes.
US officials said in April that Washington was expanding its intelligence-sharing with Saudi Arabia to provide more information about potential targets in the kingdom's air campaign against Houthi militias in Yemen.