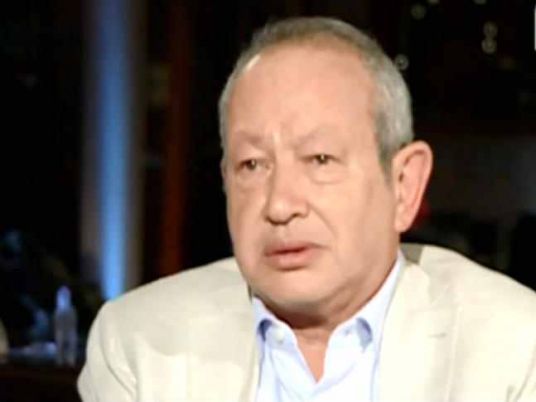 Business tycoon Naguib Sawiris has been dismissed from the Free Egyptians party, which he founded, five days after he was referred to the party's disciplinary committee for investigations following a press conference he held with members of the Board of Trustees last Tuesday, the liberal political party announced on Tuesday.
As Egypt's second-richest man, with a net worth of US$3.8 billion according to Forbes, Sawiris founded the liberal Free Egyptians party soon after the 2011 uprising that toppled longtime president Hosni Mubarak.
Sawiris, who runs a business empire across the Middle East, Africa and Europe, said he was fighting a takeover by the president of the party, whom he accuses of being a rubberstamp for the authorities.
The party president, Essam Khalil, said the committee summoned Sawiris for investigations into accusations that he insulted the Board of Trustees during the press conference were brought against him. He did not attend the investigation on schedule, prompting the committee to take the decision to drop his membership.
In statements to Al-Masry Al-Youm, Khalil said that Sawiris can file a complaint with the party's grievances committee within 15 days of his dismissal, and can then resort to the judiciary.
The undersecretary of the Board of Trustees, Ragy Soliman, said the sacking of Sawiris is "a new episode of a satire show about a group that has a limited insight into anything".
Soliman added in a statement: "the gossip about dismissing the founder of party is not surprising, as it comes from those people whose actions lack any logic and are not consistent with the party's internal regulations."
He added that Sawiris is still a member of the party and the Board of Trustees, and with him are all the honorable members of the party and its leaders whose memberships were frozen or referred to the party's discipline committee.
"We tell them that we'll retrieve our party through law, and we will win with our principles and we are confident in our legal position completely, and we trust that the Egyptian judiciary will restore things to normal, and the coming days will reveal the emptiness and falsity of everyone who thought that the that the Free Egyptians party is easy prey that could be kidnapped or that its path chosen by its founders and supporters could be changed," Soliman said.