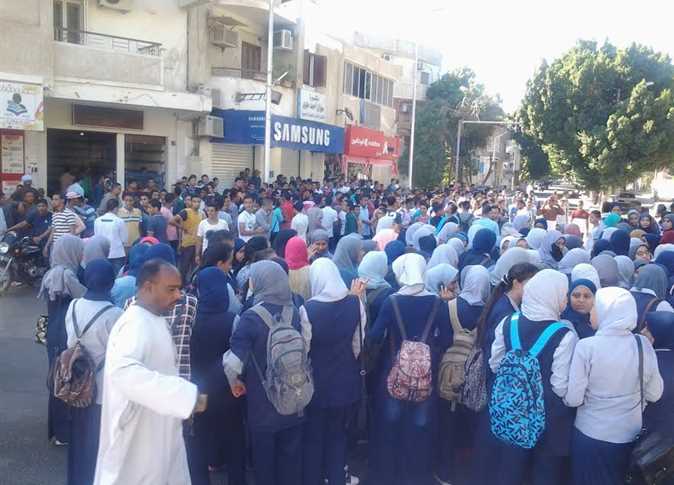 Egypt's new school year started on Saturday amid tightened security measures at high schools and universities, with security personnel deployed in force.
At the start of the new school years each September, security officials are on high alert for a spike in sexual harassment, education-related protests and the kidnapping of students for ransom.
At Alexandria University, some 146,000 students are starting the school year in different faculties. The acting president of the university Essam al-Kurdy said that security cameras have been installed in the university facilities, as well as metal detector machines at entrances.
He added that security personnel are instructed to inspect the bags of the students thoroughly.
In Qena, hundreds of high school students protested at the Governorate Building against the closure of the private tuition classes. Security forces have been deployed around the building in case the protests turn violent.
The protesting students said that classes in government schools are overcrowded, forcing them to seek better quality instruction through private tuition arrangements. The government is currently cracking down on illegal private tuition classes offered by teachers working in the state education sector.
Major General Sayyed al-Habbal, the head of North Sinai Security Directorate, said the directorate has arranged a security patrol to keep watch on schools during the first day of the school year. He added that the patrol is designed to provide protection for both students and teachers.
In Gharbiya governorate, parents of primary school pupils protested against the poor hygiene and overcrowded classes in state schools. Security officials failed to convince the parents to allow their children to attend classes as normal. Instead, parent chanted slogans against the education minister and the governor of Gharbiya.
In Cairo, Khaled Abdel Al, the head of the city's Security Directorate, conducted a tour of inspection to ensure school and university faculties had been properly protected against security threats.