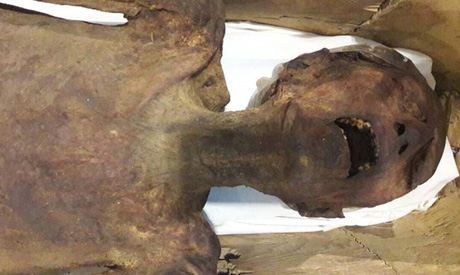 The Antiquities Ministry said on February 4 that the Egyptian Museum is to display on a weekly basis three objects that were located in a hidden display area, were recovered or were stored in the basement. In statements to Al-Masry Al-Youm, the director of the Egyptian Museum in Tahrir Mohamed Ali said that since the beginning of the exhibition, the museum has attracted about 20,000 Egyptian and foreign visitors.
He explained that the difference in the shape of the so-called Screaming Mummy contributed to the increase in the number of Egyptian and foreign visitors to the museum.
The unknown mummy was found at Al-Dei Al-Bahari Cache in 1886, wrapped in goatskin. At the time of death, the person was in their early twenties and seems to have been poisoned. The trimmed toenails of the mummy are dyed red with henna. The mummy possibly belonged to Prince Pentawer, son of the 20th Dynasty king Rameses III, who had been involved in a conspiracy against his father.
Ali said that due to the visitor turnout, they will extend the duration of the exhibit for a week.
The mummy had sparked controversy among scholars until the so-called Egyptian mummies project started, which aimed to create a complete database that includes all the anatomical information of all mummies presented and preserved in the Egyptian Museum.
Egyptologist and former Minister of Antiquities Zahi Hawass told Al-Masry Al-Youm that in 2010, the Egyptian mummies project, through its DNA analysis of the Screaming Mummy and the Ramses III mummy, succeeded in uncovering its identity. The mummy was identified as "man E" of the prince Pentawer who plotted the murder of his father, king Ramesses III.
Hawass explained that "the mummy was buried in the royal mummies cash of Deir al-Bahari, but it was not mummified and was not wrapped in white linen, as was the custom of other mummies. It was wrapped in goatskin, which was thought to be unclean in ancient Egypt and that the man wrapped in it will go to hell."
Hawass pointed out that the mummy has its hands and feet bound with ropes of skin, and was not mummified at all, but was only dried in sodium carbonate decahydrate.
Edited translation from Al-Masry Al-Youm