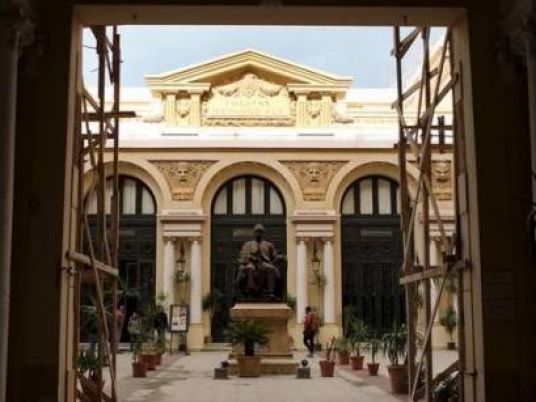 The people of Alexandria were surprised Sunday by the disappearance of the statue of the "Secret Keeper" from downtown Alexandria, reported independent daily Youm7 on Sunday.
The statue, which was situated in the Latin neighborhood of the historical city, collapsed due to erosion and weathering, head of Downtown Alexandria district Ali Morsy told Youm7.
The statue, an iconic work of early 20th century sculptor Mahmoud Mokhtar, suffered from neglect of preservation and had become cracked in several places.
But despite the loss for the Latin neighborhood, the precious piece of Egyptian heritage is not gone for good. As Morsy reassured the public, the statue was in fact a replica of Mokhtar's original sculpture. The "Secret Keeper" itself is currently kept in Cairo Museum.
An official source from within the Alexandria Department of Antiquities confirmed that the department is currently seeking to register statues situated in public squares with the Ministry of Antiquities due to their historical importance. Included on the list to be registered are the statue of Mohamed Ali in Mansheya Square, a Khedive Ismail statue in the area of Kom al-Dekka, the statue of Saad Zaghloul at Raml Train Station and a statue of Nubar Pasha at the entrance of Sayyed Darwish Theater, Youm7 reported.
Mahmoud Mokhtar is considered to have been a pioneer of the Egyptian modernist movement in art. In addition to the statue of the "Secret Keeper", Mokhtar is famous for the arresting sculpture "Egyptian Awakening", a sphinx and a peasant woman poised side by side, keepers of the Cairo University bridge.