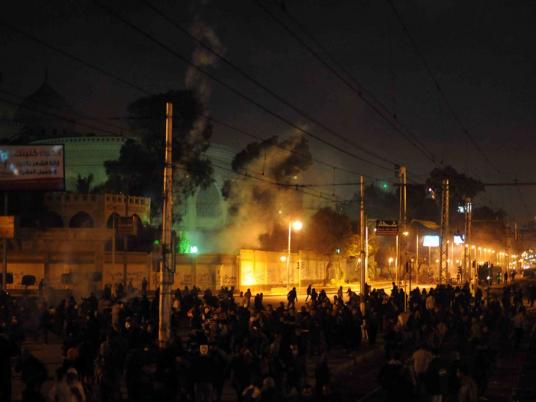 Protesters have been attacking anti-riot police, and 394 of them have been injured in attacks from protesters, said Police General Ashraf Abdallah, director of the Central Security Forces in Cairo.
Abdallah said CSF officers and soldiers are subjected to severe psychological pressure, because they can't defend themselves against protesters' attacks, according to state news agency MENA.
"Some say that the Central Security Forces treat demonstrators badly," the CSF leader said. "But the truth is that protesters are the ones treating us in a very bad way."
"They throw Molotov cocktails, missiles and fireworks at us," he added.
He said the Central Security Forces do not have any birdshot and only use tear gas and warning shots to disperse demonstrators when they attacked their forces.
He referred to the protest of CSF officers against Interior Minister Mohamed Ibrahim at the funeral of two officers killed during violence at Port Said Prison last week. The officers demanded to be armed to face attacks.
Clashes at Ettehadiya Presidential Palace over the past two days left two people dead and 113 injured.
The Central Security Forces, the country's riot police, have been widely criticized for using violence against demonstrators. Several international human rights organizations have accused CSF of using excessive force against demonstrators.