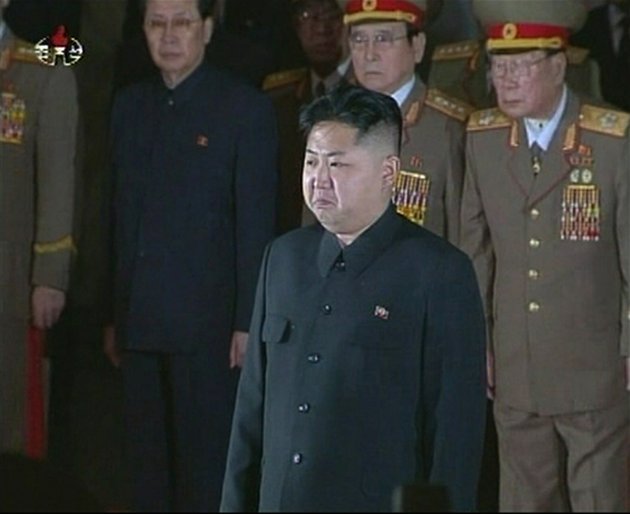 The resemblance is striking: the full cheeks and quick smile, the confident gait, the habit of gesturing with both hands when he speaks.
North Korea's young new leader, Kim Jong-un, appears to be fashioning himself as the reincarnation of Kim Il-sung, his grandfather and the nation's founder, as he seeks to solidify his hold on the nation of 24 million in the wake of his father's death last month.
Unlike Kim Jong-il, who sequestered himself for three years of mourning before formally taking up the mantle of leadership, Kim Jong-un is moving swiftly to demonstrate a decisiveness perhaps aimed at dispelling concerns about his ability to rule. He is only in his late 20s and made his public debut as his father's anointed successor just 15 months ago, far less time than the 20 years Kim Jong-il had to prepare to lead.
With the world watching, Kim Jong-un has tread confidently down the "red silk carpet" laid before him by his father, as one analyst put it, using family tradition as his guideposts. Kim Il-sung has served as his main muse as he seeks to consolidate power and loyalty.
"The image of a young smiling Kim Il-sung is deeply engraved in North Korean people's minds. It is the image of a young general who liberated the nation from Japan's imperial rule," said Ahn Chan-il, a political scientist at the World Institute for North Korea Studies in South Korea who was born in North Korea. "Kim Jong-un is borrowing from that. Kim Il-sung is resurrected in the looks and behavior of Kim Jong-un."
Two years ago, the world knew so little about the young man that even the South Korean government was spelling his name wrong. Here's a look at what we know now.
The bloodline
Kim Il-sung and Kim Jong-il were characterized in North Korea as having a divine right to rule, and Kim Jong-un is leaning on this legacy as he shores up support for a third generation of Kim leadership.
Kim Il-sung founded the country in 1948, three years after Korea was divided into the Soviet-backed north and the US-allied south. When he died in 1994, Kim Jong-il took over in what was the first hereditary succession in the communist world.
"His power comes from the bloodline," said Kim Gwang-in, head of research at the North Korea Strategy Center in Seoul.
Plans for Kim Jong-un to succeed his father were laid out after Kim Jong-il suffered a stroke in 2008. As recently as October, Kim Jong-il issued an order to elevate his son to supreme commander of the Korean People's Army, the Korean Central News Agency reported late last month.
"Kim Jong-il laid a red silk carpet, and Kim Jong-un only needs to walk on it," said Jeung Young-tae of the Korea Institute for National Unification in Seoul.
The most important holidays in North Korea are the birthdays of Kim Il-sung and Kim Jong-il, and it's likely that Kim Jong-un's birthday will become a national holiday as well. Exactly when he was born has never been revealed, but it's widely believed that he will celebrate a birthday on Sunday.
In recent days, North Korea's state broadcaster has aired tributes and odes to Kim Il-sung and Kim Jong-il, as well as the first documentary footage of Kim Jong-un and a tune composed to prepare for his leadership: "Footsteps."
The look
Kim Jong-un's resemblance to his grandfather is uncanny and probably strategic.
He is in his late 20s, undeniably young for the leader of a nation. But Kim Il-sung was just a few years older when he emerged in 1945 to lead the North after Japan's World War II defeat ended its colonial rule of Korea.
"When Kim Jong-un smiles, that reminds me exactly of a 33-year-old Kim Il-sung," Ahn said.
Photos of Kim Il-sung hanging on the walls of the Workers' Party Foundation Museum in Pyongyang, spotted during an October visit by the Associated Press, show a dapper young man with a startling similarity to Kim Jong-un. Even their hairlines are trimmed identically.
The grandson walks, shoulders thrown back, and gestures with both hands like his grandfather.
Last year, Kim Jong-un appeared in a light gray parka like the one his father famously wore. And during the mourning period, Kim Jong-un donned a dark Mao-style suit like the one his father wore when Kim Il-sung died in 1994.
However, since then, Kim Jong-un has traded the parka for a dark, double-breasted winter overcoat much like the jackets his grandfather favored.
The ceremonies
Solemn and somber in mourning, Kim Jong-un followed the routine set by his father at Kim Il-sung's 1994 funeral. He bowed at three sides of his father's glass-encased casket at Kumsusan Memorial Palace, just as his father did 17 years earlier.
For the funeral, officials dusted off one of Kim Il-sung's Lincoln Continentals for the procession through the snowy streets of Pyongyang. Just as in 1994, mourners lined the street wailing.
But Kim Jong-un played an even more public role in the procession than his father in 1994. Barehanded and bareheaded, he walked with the hearse, right hand held up in a salute, left hand at times resting on the vehicle.
For many in Pyongyang, it was their first chance to see the new leader in person.
The inspections
Kim Jong-un wasted no time in wading into the public eye. His first inspection visit without his father was a well-documented New Year's Day trip to a tank unit with symbolic ties to his family and his nation's history.
He laughed and clapped during his visit with the Seoul Ryu Kyong Su tank division, and even pulled officers close to give them a word of advice. He got busy inspecting bunks and testing the water faucets.
The division was the first North Korean unit to march into Seoul during the early days of the Korean War in 1950, and was a favorite unit of Kim Jong-il's. The visit sent a pointed message about Kim Jong-un's intention to uphold his father's "military first" policy, and gave North Koreans a glimpse of his style.
The photos and documentary footage were sent within two days of the visit, a notably quick turnaround for state media, which in the last years of Kim Jong-il's life typically provided only still images of the aging leader.
Ahn said it seemed odd to him that state media would show Kim Jong-un's easy laughter with the troops just two weeks after his father's death.
"It is a sign of the urgency the North feels in trying to put behind the Kim Jong-il leadership," he said.
The propaganda
New banners and posters in Pyongyang urge the people to "follow the leadership of respected Comrade Kim Jong-un" and "devotedly defend" Kim Jong-un.
Kim Jong-un also made his debut on a postage stamp: a 70-won stamp, equivalent to 50 US cents at official exchange rates, depicts a smiling Kim Jong-un with his father, both clad in the same light gray parka.
His official portrait has not been made public yet, and it remains to be seen whether it will hang next to those of his father and grandfather in every building in North Korea.
Reports in South Korean media say Pyongyang's premier Mansudae Art Studio created a Jong-un portrait in 2010; it could be revealed as early as his birthday Sunday, predicted Cheong Seong-chang, a senior fellow at the Sejong Institute in South Korea.
North Koreans also show their loyalty by wearing pins of the Kims. But even today, most still wear Kim Il-sung's visage pinned to their shirts, not Kim Jong-il's.
The nicknames
Kim Jong-un became known in North Korea as the "Young General" beginning in September 2010, when state media announced that he had been made a four-star general. He became "Respected General" or "Illustrious General" last year in signs that offered blessings to him, his father and grandfather.
The day Kim Jong-il's death was announced, state media referred to the son with a new, telling nickname: "Great Successor."
"Supreme commander" of the military; "supreme leader" of the people, party and army; "great leader": the nicknames began to echo those of his grandfather and father. The most affectionate remains "dear comrade" or "dear respected comrade."
Kim Il-sung ruled as president, and remains North Korea's "eternal president" long after his death.
Kim Jong-il ruled as chairman of the National Defense Commission, a position that under the constitution gave him authority as "supreme leader" of North Korea.
It remains to be seen which title will give Kim Jong-un authority as supreme leader under the constitution.
The ideology
Kim Jong-il's "military first" policy may serve as North Korea's main ideology for now under Kim Jong-un, but a new ideology will likely emerge, intended to prove to the people that he can raise their standard of living.
Analysts said the goal is to link Kim Jong-un more closely to the early, nation-building years of Kim Il-sung's rule rather than the economic hardship and famine of Kim Jong-il's era.
In the 1960s and 1970s, North Korea rebuilt quickly from the ashes of the Korean War with Soviet help, and its economy was stronger than that of rival South Korea. But natural disasters and outdated agricultural practices, compounded by the loss of Soviet aid, triggered a famine that killed hundreds of thousands of North Koreans in the mid- to late-1990s. Chronic food shortages persist.
"I expect North Korea to come up with more practical ideas that can help feed the people and strengthen the image of Kim Jong-un as someone who's capable of that," said Koh Yu-hwan, a professor of North Korean studies at Dongguk University in Seoul.
Koh added that Kim "has to demonstrate that he is a capable leader from now on."