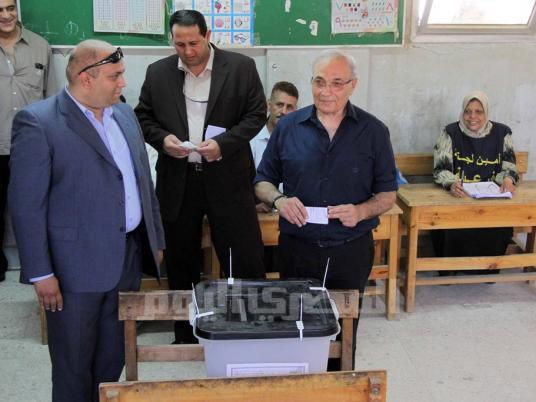 A lawyer representing former presidential candidate Ahmed Shafiq filed a complaint with the public prosecution alleging numerous irregularities and violations during the presidential runoff elections held in June.
Shafiq said in a phone call with Mehwar satellite channel Sunday that he would continue his bid to investigate the results of presidential elections.
"I will not forfeit my rights as I did after elections … everybody who attacked me will regret it; I rely on the law while the other party breaches it," Shafiq said.
The runoffs had put the Muslim Brotherhood's Mohamed Morsy ahead with 51.7 percent, while Shafiq won 48.3 percent of votes.
The complaint, filed by lawyer Shawqy al-Sayed, cited specific instances of alleged forgery, such as rigging ballots and importing pens with removable ink to invalidate them.
The same complaint also alleged instances where Christians were prevented from voting to be considered, as well as a Carter Center election observation report detecting systematic forgery in favor of a specific candidate and foreign press reports that claimed one candidate had obtained US$50 million in funding.
The complaint also cited reports by the Ibn Khaldun Center for Development Studies saying Shafiq led the race with 300,000 more votes than Morsy.
Meanwhile, the Cairo Appeals Court has turned down a request by the Illicit Gains Authority to disclose Shafiq's former Egyptian bank accounts.
The authority had requested that the public prosecution allow the disclosure of accounts owned by Shafiq, his wife and his daughters as part of its queries into illicit gains accusations made against the former prime minister.
Shafiq is currently standing trial in absentia for selling lands owned by a pilots housing association to Alaa and Gamal Mubarak , the sons of former President Hosni Mubarak, for below-market rates. He will also stand trial in November for financial corruption during his term as aviation minister.
Shafiq has been in the United Arab Emirates since losing the presidential runoff election. Authorities have placed him on the arrivals watch list.
Edited translation from MENA