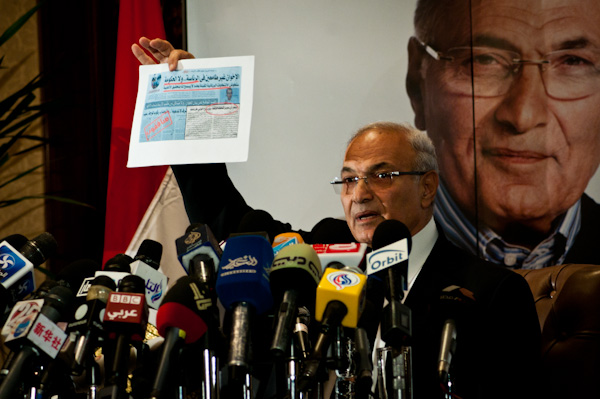 An judge has referred former Egyptian presidential candidate Ahmed Shafiq, the sons of deposed President Hosni Mubarak and four others to a criminal court over a corrupt land sale.
Judge Osama al-Saeedi has ordered Shafiq to be arrested and detained pending trial over facilitating the sale of a 40,000-square meter plot of land in Ismailia's Bitter Lakes region to Alaa and Gamal Mubarak at a preferential rate. The land belonged to the Cooperative Housing Association for Military Pilots, which Shafiq was the head of at the time of the land sale.
Saeedi accused the defendants of profiteering, forging official documents and the intentional squandering of public funds.
Other defendants include former association chairman Nabil Farid Shokry, general secretary Mohamed Reda and board members Mohamed Raouf and Mohamed Kamal.
Shokry had reportedly pled guilty to the charges.
The complaint against Shafiq regarding the land sale had been filed by former MP Essam Sultan from the Wasat Party.
Speaking to Al-Ahram newspaper from the United Arab Emirates, Shafiq said that the referral was expected and suggested that investigations into the case were influenced by the Muslim Brotherhood's Freedom and Justice Party. Shafiq lost the presidential elections in June after competing against Freedom and Justice Party candidate and current President Mohamed Morsy in runoff elections.
Shafiq left Egypt after losing the election, and last month was placed on a "watch list" that said he should be detained at the border if he tried to return.
"The decision to place me on a watch list is political," Shafiq told Sky News Arabia from Dubai. "I will return to Egypt when it is suitable for me to do so."
Edited translation from MENA