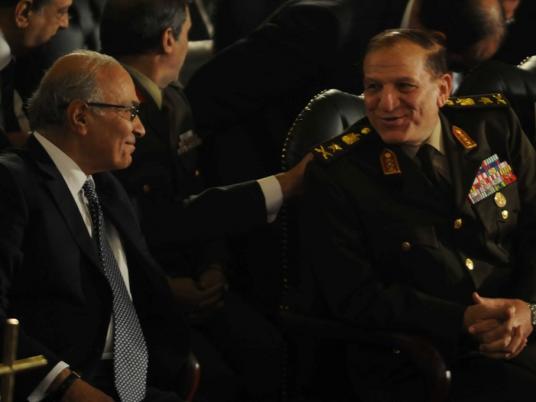 If elected president, Shafiq will promote Egypt's de facto leader Field Marshal Hussein Tantawi to a higher military post than his current one as minister of defense, said presidential candidate Ahmed Shafiq.
In part of an unaired interview the BBC Arabic channel conducted with Shafiq, he told BBC chief correspondent Khaled Ezz al-Arab that "[Tantawi] would probably not be just defense minister, but in a higher military position." He did not provide additional details.
BBC did not broadcast the interview, which was obtained by Al-Masry Al-Youm, because Shafiq's campaign staffers, who were present for the interview, objected to certain questions about his relationship with ousted President Hosni Mubarak and confiscated the tapes.
On Sunday, the Cairo Bureau of the BBC said in a statement that as soon as the 40-minute-interview was over, Shafiq's campaigners prevented the BBC crew from leaving his house before they handed over the tapes.
Al-Masry Al-Youm has also learned that Shafiq said Hosni Mubarak was a good military man and a patriot, but he made mistakes as a president, in response to a question about his opinion of the former President.
In October, Shafiq, a former Egyptian air force commander who briefly served as prime minister under Mubarak, said he planned to run in presidential elections.
Translated from Al-Masry Al-Youm