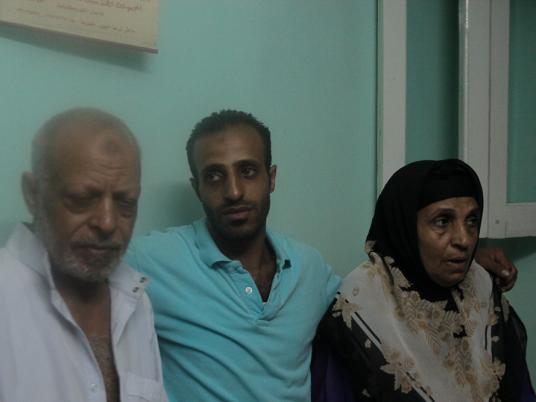 Residents of Shagarat Maryam in the Matareya suburb of Cairo are being threatened with eviction by the Ministry of Religious Endowments unless they pay a sum of LE12,000.
Ministry officials, accompanied by armed police, showed up Sunday afternoon without prior notice, demanding residents pay a fine for what they claim amounts to illegal subleasing of apartments. Residents, many of whom sustain themselves with pensions between LE150-LE200, were asked to pay immediately or otherwise be evicted.
Ridha Abdel Rahim Metwaly, a 60-year-old resident and mother of five was taken by surprise when the police appeared on her doorstep. "Five people from the ministry came with two Central Security Forces trucks and high-ranking police officers. They banged the door aggressively and came in holding big guns, even the ones you fire teargas from. They told me to hurry up and collect my things so that they could throw me out and seal off the apartment. I cried and told them I don't have that money, upon which they took a thousand pounds I had to borrow from my neighbor and left. They said we will be thrown out if we don't pay the rest by next week," she recounts.
According to Mohamed Abdel Azim, Assistant Secretary to the Municipality of East Cairo for the Egyptian Social Democratic Party (ESDP), about 90 percent of the 816 residential units face this threat.
"We are talking about 17 apartment blocks given to the Endowments Ministry by Gamal Abdel Nasser in 1956. The ministry then rented them out to poor people on the basis of a lottery, for no more than LE3 per month," said Abdel Azim, who lives nearby to the blocks, and has been working to support the residents.
He further explains that most of the original tenants found their luck elsewhere decades ago, and have been subleasing to the current residents since the early 80s, in breach of the contract with the ministry.
"Now the ministry is demanding residents cough up the rather arbitrary amount at once to register the flats under their name. It is not their fault that the government was absent for thirty years," Abdel Azim says. Besides, he adds, "People live here because they cannot afford better housing in the first place. From where do you expect them to cough up this outrageous amount of money?"
Money time; ministry reappears after decades of absence
The apartment blocks are worn out concrete structures, each of which is home to 48 cramped apartments. Residents told Egypt Independent that they haven't seen any form of maintenance for decades. "The only contact we have with the ministry is when the collector comes for the rent," says Abdel Wahid Tawfiq, a forty-year-old resident and employee at the general prosecutor's office.
Decades of neglect have led to clearly visible decay, increasing the threat of "concrete collapsing on our heads," as one resident put it. Amir Karam, a lawyer who lives close to the blocks, points out that the residents would not be compensated were this to happen, because "they are not on the piece of paper," a reference to the Endowments Ministry's contract with the original tenants, who would be the beneficiaries of compensation.
Furthermore, water and electricity are regularly cut off or otherwise weak, another manifestation of neglect. Any maintenance the area has seen for the past decades was done by residents themselves, as best they were able. The apartments are no bigger than 28 square meters, a space that has to be shared by families of up to 10 members who "sometimes have to take shifts sleeping."
"And even in these circumstances, we were not complaining. But why do they have to come and harass us now?" asks Mona Qotb Abdel Azim, a 28-year-old resident who shares a living space with her four siblings and parents. "They come with a heavily armed force to throw me out of my house as if I am a criminal. And if I defend my right to housing they will call me a thug and lock me up," she says.
The sole source of income for the Qotb family is the pension Qotb Abdel Azim receives, the 65-year-old father of five who displayed a contract with the original tenant dating from 1982.
This incident is not completely new to the people of Shagarat Maryam, who were paid a similar surprise visit by the Endowments Ministry and security forces in late 2010. Amal Mohamed, a vegetable vendor who lives in one of the blocks, told Egypt Independent she was forced to pay more than LE9,000 in late 2010. "Now they made me pay another thousand pounds last Sunday, and they said they'll come back for LE3,025 more in a week."
"State thuggery" continues
Basem Kamil, an architect and former Member of Parliament for the Egyptian Social Democratic Party, the party he cofounded, sees this as a legal loophole the ministry found to extort people with little means to resist.
"These are bureaucrats who do not see human beings; this is absolutely inhumane. They are already living in cramped decaying flats, and you show up with the police demanding immediate pay or else, like a gang."
Kamil sees the legal problems with the residents' subleasing, but expresses outrage over what he sees as the government's intimidation of its citizens with such a show of force. "Just like they neglected to show up for thirty years or more, let them collect their money in installments divided over thirty years," he suggests.
The ESDP meanwhile started a campaign against the continuing "thuggery of the state" against "the poor and needy Egyptians," as a statement published on their website reads. Furthermore, they formed a legal team to sue the ministry, in addition to forming an "engineering committee" consisting of residents that will be tasked with maintenance of the area.
Hundreds protested yesterday in front of the Maryam tree, which gives the area its name. The tree is supposed to have provided shelter for Mary, Joseph and the baby Jesus during their flight from Palestine to Egypt, and has been a site of pilgrimage since the fourth century AD.
30-year-old Amr Abdel Aziz Khalifa, a father of two, is blind and lives on welfare of LE180 per month. Being one of those who risk losing their home, he sums up the disillusionment with the newly elected government many in this community share: "Where is the right to housing? Where is their humanity? Where is the president who appointed the ministers responsible for this? We have corrupted billionaires in this country; let them get their money there. They chose to take it out on the poor instead."