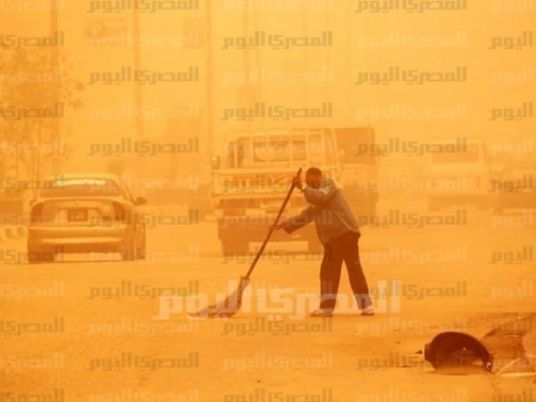 The Egyptian Meteorological Authority experts expect a significant drop in temperatures accompanied by active northwestern dusty wind throughout most parts of the country.
Dusty winds will affect visibility on roads and disrupt navigation in the Gulf of Suez, the Red Sea, and the Mediterranean Sea, the authority said in a statement Wednesday.
Weather is projected to be more pleasant on the North Coast, in Upper Egypt and in Cairo. It will be moderate on north Upper Egypt and very hot in south Upper Egypt during daytime and cold at night.
Low- and medium-level clouds will appear in the north, the statement added.
Winds will be northwesterly and will range between turbulent to moderate on the Red and Mediterranean seas. The height of waves will range from 2 to 3 meters.
Wahid Saudi, spokesman for Meteorological Authority, said the temperature will drop 15 degrees Celsius on Thursday and Friday after it reaches 40C Wednesday.
Saudi added in a phone call to OnTV channel, on Wednesday morning, the drop in temperatures will be accompanied by a severe wave of dust.
Temperature would reach 10C on Thursday evening at some parts of the country, Saudi said, warning citizens not to wear light clothes.
The temperature forecast in Cairo for Thursday, according to the Egyptian Meteorological Authority website, is 22C during the day and 12C at night, in Marsa Alam it will be 36C during the day and 19C at night, in Hurghada 33C during the day and 20C at night, in Sharm al-Sheikh 30C during the day and 22C at night, in Luxor 35C during the day and 19C at night, and in Aswan 39C during the day and 22C at night.