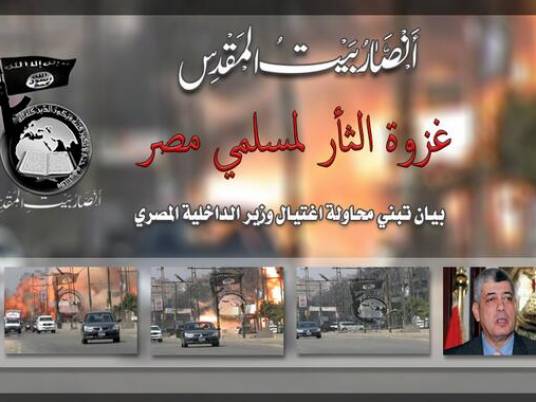 Egypt's most active terrorist group, Ansar Bayt al-Maqdis, has pledged allegiance to the Islamic State, the movement that controls large swathes of Iraq and Syria and is facing a US-led multinational military operations.
Ansar Bayt al-Maqdis, which claimed responsibility for several bloody attacks against Egyptian army and police forces in Sinai since July 2013, said in a recorded video message early Monday it officially pledges allegiance to IS.
"Obeying Allah and his Messenger's directives to maintain unity, we pledge allegiance to Caliph Ibrahim bin Awwad bin Ibrahim al-Qurashy al-Husseiny", the statement said, referring to IS leader also nicknamed as Abu Bakar al-Baghdady.
The statement urged Muslims around the globe to back Baghdady, announcing that an "Islamic Caliphate has been declared in Iraq and the Levant, and Muslims have chosen their own Caliph."
In a relevant context, senior security sources in North Sinai told Al-Masry Al-Youm Sunday that five extremist elements belonging to Ansar have been killed in raids that targeted areas south of Arish, Rafah and Sheikh Zuwayed.
Edited translation from Al-Masry Al-Youm