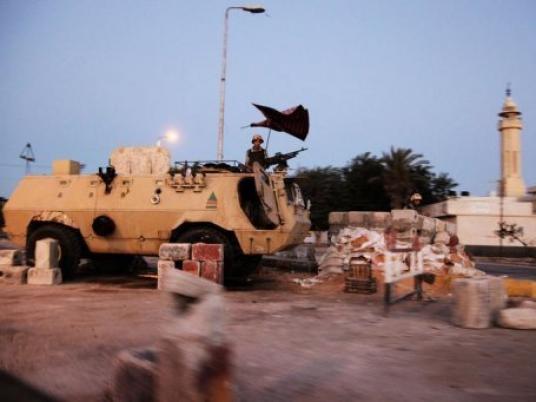 A Sinai tribal chief criticized Thursday recent "arbitrary home raids" by police forces in the city of Arish searching for weapons, saying that the police campaigns enraged citizens, who blocked a highway in protest.
Sheikh Hamed Abu Oshb from the Tarabin tribe said police authorities usually pay no respect to the customs of Sinai citizens. "They do not pay attention that women might be inside the houses they are storming," he said, saying that police forces should ask for the permission of citizens before inspecting their homes.
Mohamed al-Nakhlawy, one of the protesting citizens, said security authorities' disrespect to the traditions of the Sinai community generates violence from both sides. He said the protesters ended the sit-in after talks with security leaders.
Relations have been tense over the past years between security services and Sinai residents. The region has been a scene for attacks on police facilities since the breakout of the January 2011 uprising.
The Armed Forces over the past weeks have been waging a campaign targeting hideouts of extremist groups since a bloody attack on an army checkpoint in Rafah on 5 August that killed 16 officers.
The Defense Ministry says the Sinai operation is being carried out over two phases: the first phase lasted from 7-30 August, while the second phase began on 31 August and will continue until the complete eradication of criminal activity.
A number of tribal leaders met Tuesday with North Sinai Governor Abdel Fattah Harhour, where they demanded the names of perpetrators behind the Rafah attack to be declared.
Edited translation from Al-Masry Al-Youm