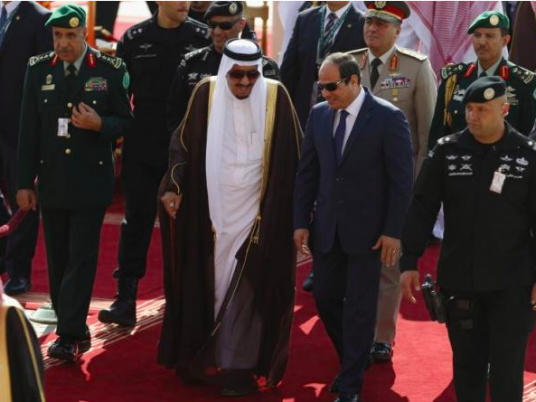 President Abdel Fattah al-Sisi will visit Saudi Arabia on Sunday where he will meet with King Salman bin Abdelaziz to discuss how to boost bilateral strategic ties as well as regional and international issues of joint interest, on top of which is the topic of counter-terrorism.
The visit comes in response to an invitation from the king within interests on resuming joint coordination.
Informed sources said Sisi will be accompanied Foreign Minister Sameh Shoukry and Trade and Industry Minister Tareq Qabil during his visit to Riyadh.
In related news, in a meeting with Omani Foreign Affairs Minister Yusuf bin Alawi and the Omani ambassador to Cairo on Saturday, Sisi highlighted Egypt's interests in developing bilateral cooperation with Oman in all fields, as well as fostering coordination between the two countries.
The president stressed the necessity of good preparation for the upcoming Egyptian-Omani joint committee's tour. He also expressed his aspiration for the outcome to contribute to developing bilateral relations.
Shoukry and Alawi held talks to discuss bilateral relations and the regional situation. Both agreed on preparations for the Egyptian-Omani joint committee, which will convene in October.
Alawi also informed Shoukry about his country's efforts regarding mediation between Yemeni parties to reach a political compromise.
Edited translation from Al-Masry Al-Youm