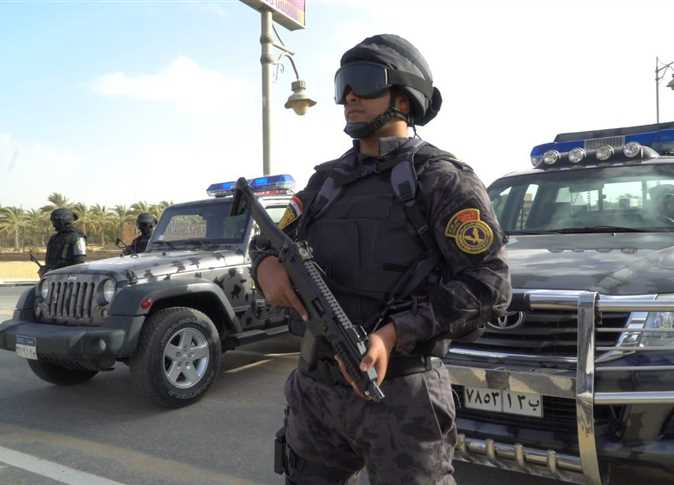 Egyptian President Abdel Fattah al-Sisi attended on Thursday a ceremony for the 68th anniversary of National Police Day, as security forces prepared to confront alleged threats and calls for protests this weekend in light of the anniversary of Egypt's 2011 uprising.
Sisi honored several families of fallen police officers during the ceremony for National Police Day, which is commemorated each year on January 25, presenting them with the Order of Merit in honor of their relatives' sacrifice.
Also in attendance were Prime Minister Mostafa Madbouly, Interior Minister Mahmoud Tawfiq, House of Representative Speaker Ali Abdelaal, Al-Azhar Grand Sheikh Ahmed al-Tayyeb, and Pope Tawadros II, as well as a number of other officials and public figures.
National Police Day commemorates 50 police officers killed and another 80 wounded on January 25, 1952, when they refused demands from British occupation forces to hand over weapons and evacuate a police station in Egypt's Ismailia governorate.
A new logo was designed for the 68th anniversary of National Police Day, and the Ministry of Interior is set to organize a ceremony at the police academy headquarters to honor the families of police officers killed in the line of duty.
January 25 also marks the anniversary of the 2011 uprising that overthrow longtime president Hosni Mubarak, and on Wednesday, Egypt's Minster of Interior said that police were ready to confront attempts by "Muslim Brotherhood members" to harm the country's national security during the 9th anniversary of revolution on Saturday, calling on the Egyptian people not to respond to what it said were "calls for incitement, rumors, and fake news."
The ministry added that the National Security Sector had "monitored the preparation of the Muslim Brotherhood organization's leaders in Turkey for a plan to undermine security and stability, spread chaos in Egypt, and destroy (the country's) economic gains during the anniversary of January 25," adding that the Muslim Brotherhood, which has been designated a terrorist organization by the state since 2013, had assigned "Muslim Brotherhood elements to carry out the plan through several steps," including the creation of Facebook pages under the name of "al-Harka al-Shabya" and "Joker" involved in publishing "fabricated" news, "inciting chaos," and calling for the fall of state institutions.
According to the ministry's statement, the National Security Sector's officers have arrested several individuals allegedly preparing for protests to mark the anniversary of the 2011 uprising and planning to "sabotage" state facilities.
Police also seized small drones, computers, cameras, and mobile phones containing applications for connecting with Satellite TV channels and web pages allegedly affiliated with the outlawed Muslim Brotherhood.
Authorities have led a crackdown on Muslim Brotherhood members and supporters since former president Mohamed Morsi's ouster in July 2013. Egypt listed the Brotherhood as a terrorist organization that same year and insists that the group is behind the wave of militancy that has targeted security personnel.
Edited translation from Al-Masry Al-Youm