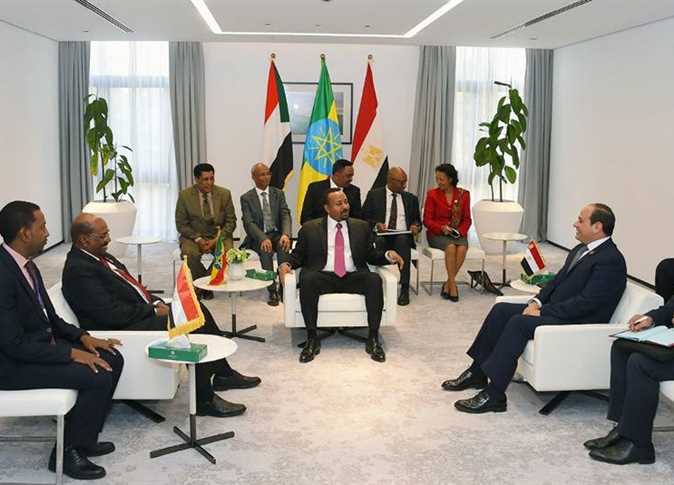 Egyptian President Abdel Fattah al-Sisi participated in a three-way summit with Sudanese President Omar al-Bashir and Ethiopian Prime Minister Abiy Ahmed on the sidelines of the African Union (AU) summit in Addis Ababa on Sunday. The meeting is an extension of the GERD meetings between the leaders of the three countries since the African summit in January last year.
The tripartite summit meetings are aimed at providing a political umbrella to support the technical negotiations on the Grand Ethiopian Renaissance Dam (GERD), overcoming any obstacles in this regard and working to strengthen the tripartite cooperation between them.
The spokesman for the Egyptian presidency, Bassam Rady, said that Sisi stressed in this regard the importance of working to ensure a balanced and cooperative vision to fill and operate GERD to achieve the interests and objectives of each of the three countries.
Leaders of the three countries stressed at the summit the need to share a single vision on the issue of the dam, based on the Declaration of Principles signed in Khartoum, and to uphold the principle of not harming the interests of the three countries, as well as common benefit.
Rady added that the three leaders agreed not to harm the interests of their peoples as the basis for negotiations and joint action to achieve development for the peoples of the three countries by working to reach consensus on all outstanding technical issues, taking into consideration the three countries' common destiny.
The tripartite summit also touched upon the overall dimensions of the relations between the three countries and means of enhancing cooperation between them, while continuing intensive consultation and coordination on various subjects of common interest.
Edited translation from Al-Masry Al-Youm