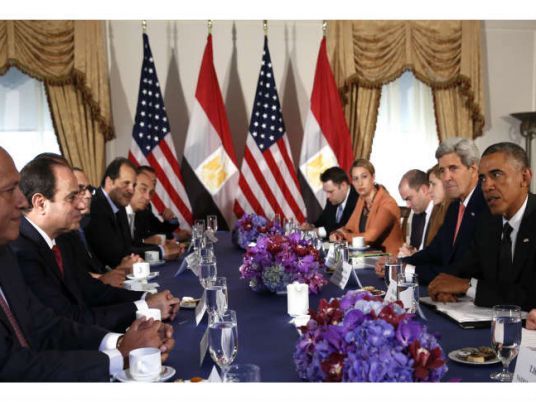 The government of President Abdel Fattah al-Sisi is a better US ally compared to its predecessor dominated by the Muslim Brotherhood, the US Congress was told in a
subcommittee hearing
on the political situation in Egypt two years after the ouster of Mohamed Morsi.
"The Sisi government represents a major opportunity for Washington, because it is significantly more closely aligned with US interests than the Brotherhood-dominated government that preceded it," Eric Trager, from the Washington Institute for Near East Policy, told the House of Representatives' Subcommittee on the Middle East and North Africa.
Washington was hesitant in voicing support for the ouster of Morsi, Egypt's first freely-elected president, and withheld a part of its annual financial aid of US$1.3 billion following the army's crackdown on Brotherhood supporters and other political dissidents.
Trager said that the United States should not ignite tensions with Egypt due to its importance as a strategic regional ally.
"Washington should be realistic about its ability to influence Egypt in a more democratic direction so long as the government and the Muslim Brotherhood remain in a life-and-death struggle with each other."
He, however, advised the US not to tolerate the current government's "repressiveness".
"Washington should in no way downplay the current Egyptian government's repressiveness, such as by declaring that Cairo is transitioning toward democracy, as Secretary of State John Kerry did in July 2014."
The United States has, on several occasions, criticized the Sisi's government's record over freedoms and democracy, and was met with repudiation from Cairo.