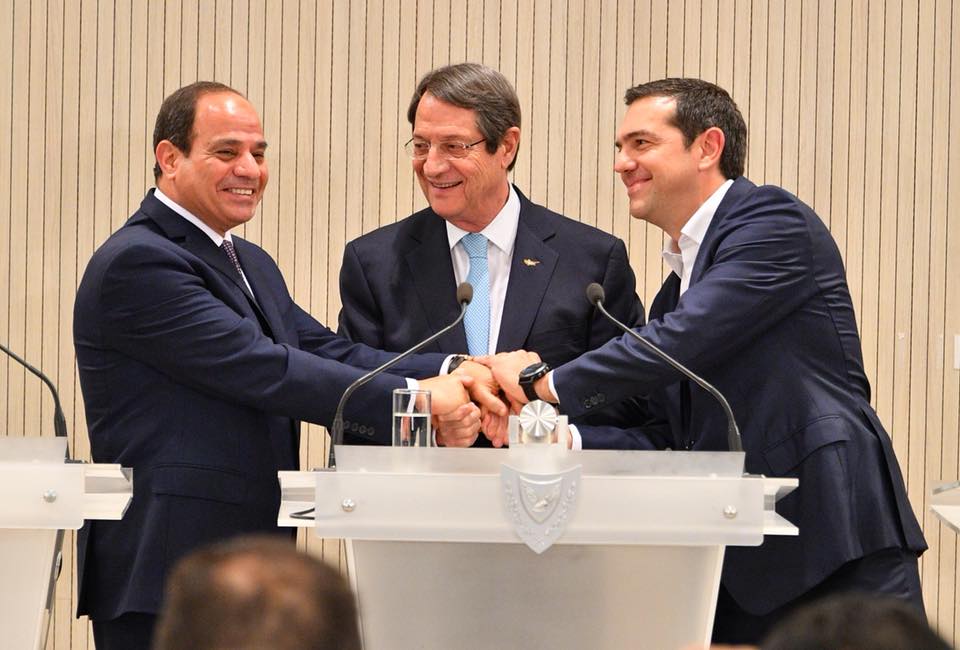 President Abdel Fattah al-Sisi said Tuesday that terrorism is the greatest threat to the peoples of the Middle East, and called on the countries of the region to come together to counter it because citizens' personal safety is a basic human right.
He made the remarks at a press conference following the conclusion of a trilateral summit held between Egypt, Cyprus and Greece in Nicosia this week.
The heads of state discussed ways of deepening cooperation between the countries and reviewed developments of joint projects, Sisi said.
On sustainable development, he noted that "several promising areas for cooperation also came up, such as energy and waste recycling, as it enables the sustainable development of our resources, which is one of the most important ways to secure the future of this generation and preserve their wealth."
The President pointed out that they agreed to organize a cultural week to highlight the historical connections between the three countries. The event, to be entitled "Egyptian, Greek, and Cypriot communities revive their roots", will invite Greeks and Cypriots who previously lived in Egypt to return to the country and visit the places where they used to stay.
The three countries also tackled the issue of illegal immigration, with Sisi pointing out that "we continued to discuss the best ways to address the crisis of illegal immigration through a comprehensive and integrated approach."
On the sidelines of the summit, Sisi met with Greek Prime Minister Alexis Tsipras to whom he stressed Egypt's continued efforts to push for political solutions to the crises in the region, stressing his support for safeguarding the sovereignty of countries and strengthening state institutions to prevent terrorism from filling potential power vacuums that can emerge.