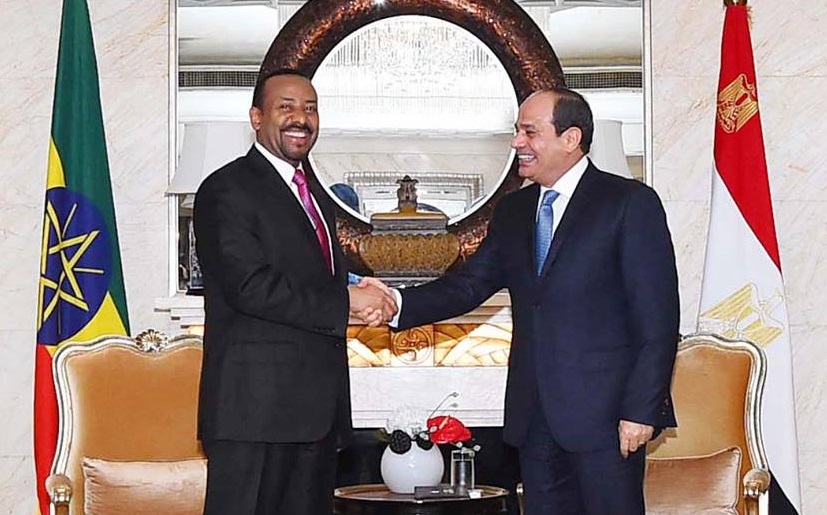 Egyptian President Abdel Fattah al-Sisi said on Friday that Ethiopian Prime Minister Abiy Ahmed's Nobel Peace Prize award marks a new victory for African efforts to seek peace.
President Sisi wrote on his official Facebook page that Abiy Ahmed's prize is "a new victory for our continent, which is always aspiring for peace and seeking stability and development."
"I extend my sincere congratulations to the Ethiopian Prime Minister and the brotherly Ethiopian people on the award of the Nobel Peace Prize to Mr. Abiy Ahmed, the Prime Minister of Ethiopia," Sisi said.
Sisi also expressed wishes that constructive efforts to end all conflicts and differences in Africa continue with the will of its great peoples.
Egypt's Presidential Spokesperson Bassam Rady said that Sisi received a phone call from Abiy Ahmed expressing his gratitude to the president and Egypt for congratulating him on the award.
The call also stressed the importance of overcoming any obstacles on the Grand Ethiopian Renaissance Dam (GERD) negotiations in order to reach an agreement that fulfills the hopes and aspirations of the peoples of the three countries, Egypt, Sudan and Ethiopia within the framework of the Declaration of Principles signed between them.
The Nobel prize committee declared Abiy Ahmed the winner of its peace prize on Friday.
It said that when Abiy Ahmed became Prime Minister in April 2018, he made it clear that he wished to resume peace talks with Eritrea. In close cooperation with Isaias Afwerki, the President of Eritrea, Abiy Ahmed quickly worked out the principles of a peace agreement to end the long "no peace, no war" stalemate between the two countries.
The committee stated that "In Ethiopia, even if much work remains, Abiy Ahmed has initiated important reforms that give many citizens hope for a better life and a brighter future."
"He spent his first 100 days as Prime Minister lifting the country's state of emergency, granting amnesty to thousands of political prisoners, discontinuing media censorship, legalizing outlawed opposition groups, dismissing military and civilian leaders who were suspected of corruption, and significantly increasing the influence of women in Ethiopian political and community life. He has also pledged to strengthen democracy by holding free and fair elections," the statement reads.
The Ethiopian Prime Minister said that he is honored and pleased with the award, welcoming "a prize awarded to Africa".
In a short telephone conversation with the Nobel Foundation which broadcast it on the Internet, Abiy added that he believes that all other African leaders will think that it is possible to work on peace-building measures on the continent.
Edited translation from Al-Masry Al-Youm