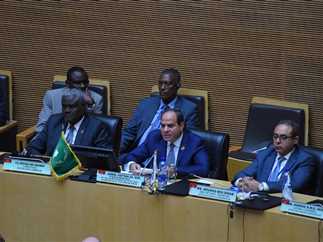 Egypt's President Abdel Fattah al-Sisi stressed his keenness to work with all African Union (AU) commissioners and employees to achieve the objectives of the AU, to advance joint African action in accordance with the 2063 Agenda, and to maximize the volume of intra-African trade through the African Continental Free Trade Agreement.
During a meeting held at the headquarters of the AU with African Union Commission Chairperson Moussa Faki and commissioners of various AU departments, Sisi stressed the importance of enhancing security and peace among the countries of the continent, as well as reconstruction in the post-conflict phase.
Sisi also stressed his keenness to reform the working mechanisms of the Commission to achieve the objectives of the AU member states during the institutional work in order to implement the decisions of the summit in various fields and to complete major continental and regional projects.
He reiterated his confidence that the commissioners and employees of the AU will carry out these tasks in full coordination with the various Egyptian bodies, especially that Egypt will host a number of African events this year.
Egypt is open to valuable proposals for cooperation between Africa and regional and international groups, Sisi said.
"We look forward to working with partners, and we will do our utmost to reach as many goals and frameworks as possible," he added.
The Egyptian president stressed the need to work and cooperate with the countries of the world to solve the problems of African youth, who resort to illegal migration and put their lives at risk, and to work to address the reasons that drive them out of Africa to Europe in that way.
He also stressed the importance of African citizens taking advantage of the movement of trade, infrastructure and reconstruction, pointing out that Egypt has taken serious steps in this area.
Sisi praised the progress made by former AU Chairman and Rwandan President Paul Kagame, and he hoped that the AU would make further achievements under coming chairmen.
Members of the AU commission were also invited by Sisi to attend the Arab-African Youth Forum scheduled to be held in Aswan, Egypt.
Edited translation from Al-Masry Al-Youm