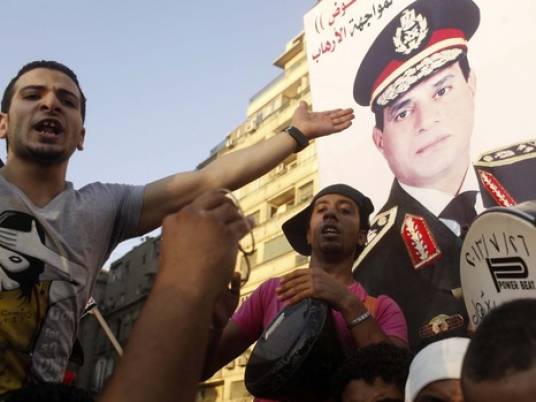 The official campaign of former defense minister and presidential hopeful Abdel Fattah al-Sisi announced Tuesday that Sisi received a delegation of 24 ambassadors from Asian countries on Monday.
The campaign said in a statement that the meeting emphasized communication bewteen different countries, especially Asian countries which have historically deep relations with Egypt.
Sisi stressed during the meeting that Egypt needed cooperation and communication with various world countries in the next phase in order to establish genuine relations with all countries, adding that Asian countries have pioneering experience in the areas of economic development and sustainable development, the statement said.
Sisi added during the meeting that he appreciated and respected all 'brotherly' countries in Asia and was looking for more cooperation.
Sisi pointed out that the army in Egypt has no interests and hopes to see its homeland safe and stable. He stressed that there was a special relation between the people and the armed forces, which has to be taken into account when assessing the situation in Egypt.
Sisi mentioned that the army does not seek to exercise any political role but that it would not give up its role in protecting borders and maintaining national security.
"Sisi's vision for the future of Egypt is based on providing a massive infrastructure that leads Egypt becoming a true hub for services in the region, resulting in great opportunities for investments," the statement quoted Sisi telling the Asian ambassadors.
Edited translation from Al-Masry Al-Youm