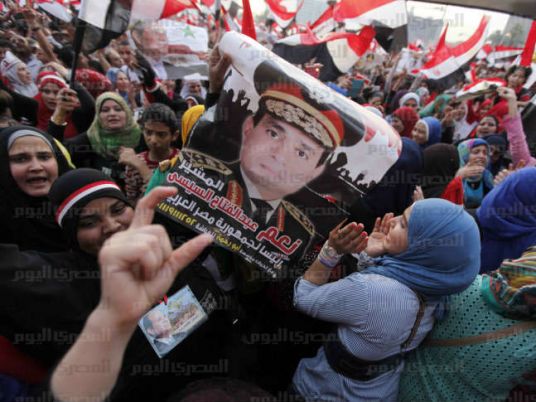 President Abdel Fattah al-Sisi's satisfaction rate among Egyptian voters dropped to 68 percent in October, compared with 82 percent in August 2016, according to a poll conducted by Baseera.
If accurate, the poll suggests a steep decline in popularity for the president as he reaches the 28-month mark in his first term in office, with experts identifying economic woes as a key factor.
The poll showed that 24 percent of Egyptians now disapprove of the president's performance, with only 8 percent of respondents undecided.
The poll results suggest that the president is more popular among older voters, with 82 percent of respondents over 50 years of age registering satisfied with Sisi's performance, compared to 50 percent of those under 30. However, the approval rating did not vary according to education level.
According to the poll, the key reasons given for approving of the president's performance are the Suez Canal project, his efforts to improve the security situation, the new social housing projects and improvement in Egypt's infrastructure, including building bridges and roads.
At least 19 percent identified the Suez Canal project as a reason for their approval, compared to 32 percent in August 2016, while 18 percent believed that the security situation has been improved.
Moreover, 11 percent of poll respondents said that they are satisfied with improvements to conditions in the country. Nine percent identify roads and bridges as a key factor, 7 percent are satisfied due to social housing projects, and 22 percent were unable to cite a reason for their approval.
Meanwhile, dissatisfied respondents gave various reasons for their discontent. Seventy-four percent are disappointed with high prices of consumer goods and 13 percent are dissatisfied with unemployment rates. Twelve percent said that they are dissatisfied due to the lack of improvements in the country, while 4 percent referred to the deterioration in the country's economic status and the lack of social justice
The poll also asked participants if they would vote for Sisi again if presidential elections were held tomorrow with 59 percent of respondents said they would, compared to 85 percent of respondents in a similar poll taken two months ago. Meanwhile while 20 percent said they would not and 21percent said that their decision would depend on who else is in the race.
Egyptians aged above 50 are the biggest supporters to Sisi and the most likely to say that they would vote for him tomorrow, with 77 percent. This compares with just 41 percent in the under 30 category.
Moreover, around 53 percent of poll respondents with a higher-education qualification would be willing to re-elect al-Sisi now, compared to 63 percent among those with lower educational levels.
The poll was conducted using both mobile phones and landlines on a sample of 1,520 citizens aged 18 years old and above, and covering all governorates. All phone interviews were conducted on October 17 and 18, 2016. The response rate was around 48 percent, and the margin of error in the results is less than 3 percent. Baseera said the poll was self-funded as a part of its social responsibility activities.
Economy mainly to blame
Political and economic experts attributed the drop in Sisi's popularity to the government's failure to manage issues that directly impact on citizens, such as consumer inflation, unemployment rates and the country's poor economic situation in general.
"The economy is the reason for satisfaction or dissatisfaction among the people, and if any government in the world needs happy and satisfied citizens it should provide them with all the conditions for a good life and a healthy economy," economy expert Magdy Toulba told Egypt Independent.
He said that dissatisfaction among the general public is due to two main factors. One is poor government performance regarding the county's economic woes, including high inflation rates, unprecedented devaluation in the local currency and the vague future vision.
"The government is implementing the IMF conditions very well and acting as if these decisions are being made by themselves, but the Egyptians are old enough to understand," he said.
Under the same heading, said Toulba, is the process of reconciliation with figures from the old regime, which is something that people feel disappointed about.
"The government is currently creating the living conditions one finds at a refugees camp. They distibute sugar and oil to people from mobile carts, but they don't provide real solutions and strategies to give people some hope," he said.
The second main cause for dissatisfaction, according to Toulba, is diasspointment with the performance of the president himself.
"People put big hopes in Sisi as a president who came in office after two revolutions. They demanded significant changes and developments, but Sisi is working on long-term development projects," he said
However, dispite the results of the latest Baseera poll, Toulba said that people still have faith in Sisi although they need to see more results.