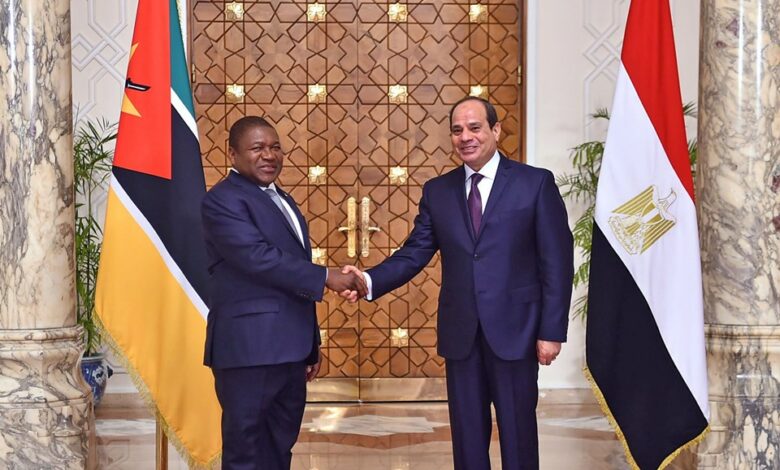 President Abdel Fattah al-Sisi has stressed the importance of boosting relations between Egypt and Mozambique at all levels.
Speaking during a joint press conference with his Mozambican counterpart Filipe Nyusi Friday, Sisi called for activating the joint committee between the two countries to enhance bilateral cooperation and trade exchange.
Egypt, he added, is willing to offer all support and training needed to fight abduction and terrorism in Mozambique.
Sisi told reporters that Egypt, while fighting terrorism, worked on construction and development. This, he noted, helped in countering terrorism.
He also voiced willingness to contribute to improving and correcting the religious discourse through Al Azhar institution. Sisi talked about sending Al Azhar imams to train clerics in Mozambique.
Sisi touched upon Egypt's good experience with the different projects. Over the past eight years, Egypt has worked on a big strategy with the aim to establish advanced infrastructure in all fields, whether energy, transport, health or any other domain.
He put the total number of companies operating in Egypt at about 5,000. Egypt, he added, is willing to share part of its successful experiment with Mozambique.
During the press conference, Sisi saw the similarity of views between Egypt and Mozambique at the regional and international levels.
He stressed the need to reach calm and a ceasefire in Libya and Sudan. Dialogue is the most peaceful way to solve disputes, he noted.
The talks with Nyusi earlier today also took up the Russian-Ukrainian crisis.
Sisi invited the Mozambican president to visit Egypt.