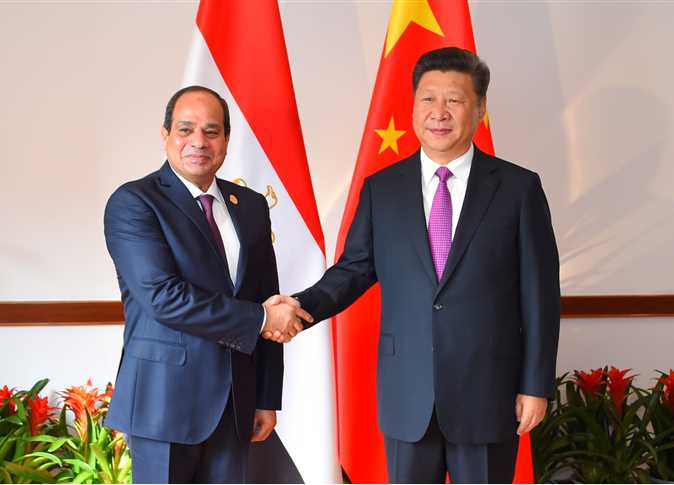 President Abdul Fattah al-Sisi will participate in the Belt and Road forum in China's capital of Beijing from April 25 to 27, among presidents and senior officials from some 40 countries.
On the sidelines of the forum, President Sisi is expected to hold talks with his Chinese counterpart Xi Jinping and will also meet the Chinese Prime Minister Li Keqiang, along with the chairman of the National Committee of the Chinese People's Political Consultative Conference (CPPCC) Wang Yang.
The visit is expected to see the signing of agreements and memorandums on joint cooperation between Cairo and Beijing.
Chinese Foreign Minister Wang Yi said on Friday that his country's 'Belt and Road' initiative is a win-win benefit for China and all countries involved in the mega-project, and serves development purposes in African countries in particular.
He pointed out that Egypt's presidency of the African Union is paving the way for the success of the initiative. He added that the Egyptian-Chinese cooperation is also a key pillar in promoting Sino-African cooperation and enhancing relations between them in various fields.
Osama al-Majdoub, Egypt's ambassador to Beijing, raised the level of readiness for this forum. Egypt is participating in the conference in its capacity as president of the African Union, besides the bilateral meetings to be between the two countries.
This is the fifth visit by President Sisi to China, as the relationship between the two countries depends on the comprehensive strategic partnership.
The last visit of Sisi to Beijing witnessed the signing of some agreements with Chinese companies for the implementation of projects in Egypt with an investment value of about US$18.3 billion.
About 1,080 Chinese companies work in Egypt in various fields of investment, notably the sectors of industry, telecommunications, information technology, Economic development, finance and contracting.
Edited translation from Al-Masry Al-Youm