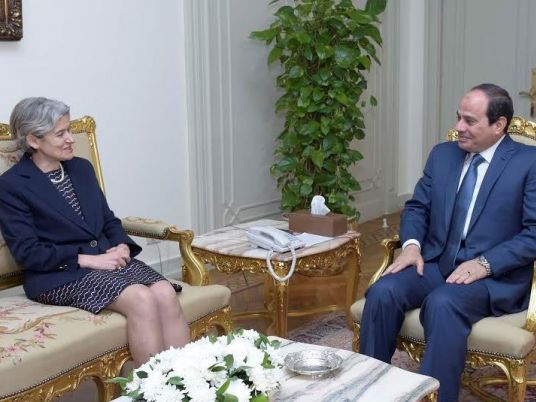 President Abdel Fattah al-Sisi and UNESCO chief Irina Bokova have condemned extremist assaults on cultural heritage in the Middle East, warning that ancient sites have become targets for terrorism.
"The destruction of culture is now on the frontline of new conflicts and the mandate of UNESCO, 70 years after its creation, has never been so important, to protect heritage and educate young people about the need to preserve it," Sisi said during a meeting with Bokova on Thursday.
Bokova, meanwhile, said Egypt's cultural and human diversity should serve as an asset in combating extremism and push intercultural dialogue.
Bokova is already attending an international conference in Cairo tackling efforts to protect heritage from extremist sabotage. The issue has become more pressing following Islamic State's destruction of invaluable treasures and antiquities at a museum in the Iraqi city of Mosul last February.
During her participation in The Cultural Heritage Under Threat, an international conference that launched in Cairo on Wednesday, Bokova described aggressions on heritage locations as a "war crime".
"The stakes are high," declared Bokova. "The destruction and looting of archaeological sites and museums have reached unprecedented levels. The destruction of cultural heritage, the cultural cleansing, is being used as a tactic of war to terrify populations, to finance criminal activities and to spread hatred," she was quoted as saying by the Associated Press.