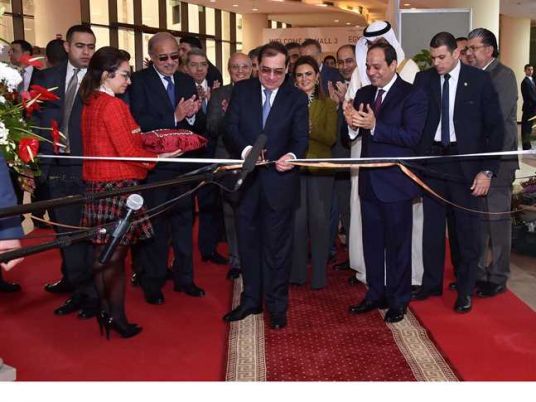 President Abdel Fattah al-Sisi inaugurated, Tuesday, the Oil and Gas International Conference and Exhibition in Egypt (EGYPS 2017) which is being held in Cairo from February 14 to 17, under the slogan "Promising Opportunities for Oil and Gas in Egypt".
Sisi welcomed a suggestion to transform Egypt into a regional center for oil and gas commerce.
Major international companies are taking part in the exhibition, which reflects Egypt's interest in the energy sector as representing an important pillar of the national economy.
A number of ministers, including Prime Minister Sherif Ismail, Petroleum Minister Tarek al-Molla, along with senior officials from Egyptian and foreign oil companies attended the inauguration.
The exhibition aims to promote new petroleum projects and to enhance communication with foreign investors and major international companies, as well as to highlight the unique investment opportunities enjoyed by the oil and gas industry in Egypt.
Sisi inspected the partitions set up by the Egyptian and global companies participating in the conference. He was briefed on the latest technology in the field of oil and gas industry; and held conversations with the heads and representatives of exhibiting companies on the means to promote their activities in Egypt and their possible contribution to the oil and gas sector development.
Ismail and Molla delivered speeches where they stressed Egypt's keenness to promote investment in the field of energy through providing an appropriate climate for these investments. They both emphasized the government's intention to transform Egypt into a regional center for oil and gas commerce.
The ministers announced that Egypt plans further development for the sector to achieve the maximum benefit from the new discoveries, especially in the field of natural gas; pointing out that Egypt is looking forward to achieving self-sufficiency in natural gas within the coming two years.
Edited translation from Al-Masry Al-Youm